12 April 2017
Funding of £1.1m to benefit Faculty researchers
Scientists in the Faculty of Natural and Mathematical Sciences are to benefit from funding of £1.1M as part of an Impact Acceleration Account (IAA) by the Engineering and Physical Sciences Research Council (EPSRC).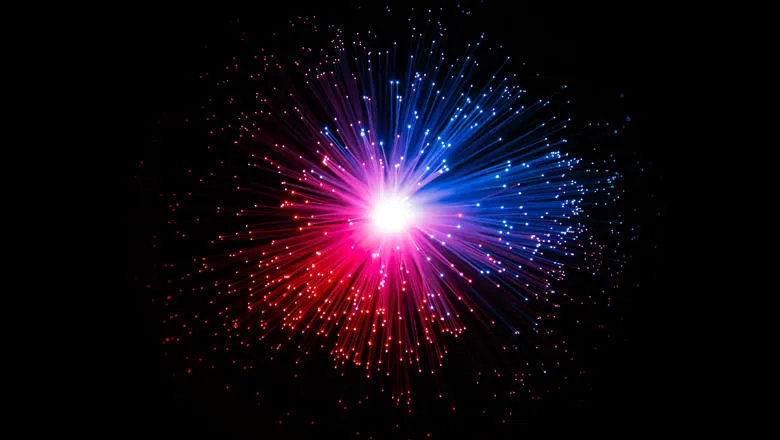 Pink and blue fibre optics
This new 3 year award will provide the support for researchers to transfer ideas and technologies developed from previous EPSRC-funded grants out into society.
The grant, which will be administered by the Faculty, will be used to support prototype development, skills enhancement and training, placements and knowledge exchange, and to strengthen links with businesses and end users.
King's was awarded its first EPSRC Impact Acceleration Account in 2015, and it has been instrumental in providing support for work that has advanced beyond the research stage. Staff and PhD students from the Faculty received grants that enabled them to work on projects as diverse as artificial intelligence (Department of Informatics with Transport for London), mathematical techniques in medicine (Departments of Primary Care & Population Health Sciences and Mathematics with GlaxoSmithKline) and fluorescence instrumentation and design (Dental Institute with clinical partners and the Design Council).
The news of the new award coincided with a showcase event of some of the research and innovation work taking place at King's in the areas of Science and Engineering. The event was held on the 4th April in the Anatomy Museum on the Strand campus, and attendees had the chance to see demonstrations and try some of the emerging technologies for themselves.
Richard Matthewman, Faculty Research Officer, said: "The original impact funding has allowed many researchers to make substantial progress in taking their work forward, and has made a real difference in creating a culture of innovation. This new funding will enable King's to be even more effective in delivering impact and making a difference in the world, and will help to bridge the gap between research and successful commercialisation."
A call for proposals will be issued in May, and will be open to staff and PDRAs for activities that link to previous EPSRC funding; for further information please contact the Impact Acceleration Account Manager: richard.matthewman@kcl.ac.uk