24 January 2022
Geography student wins dissertation award for work on energy efficiency policies
The Department of Geography's 'Best Undergraduate Dissertation' prize has been awarded to student Dara Engelbrekt.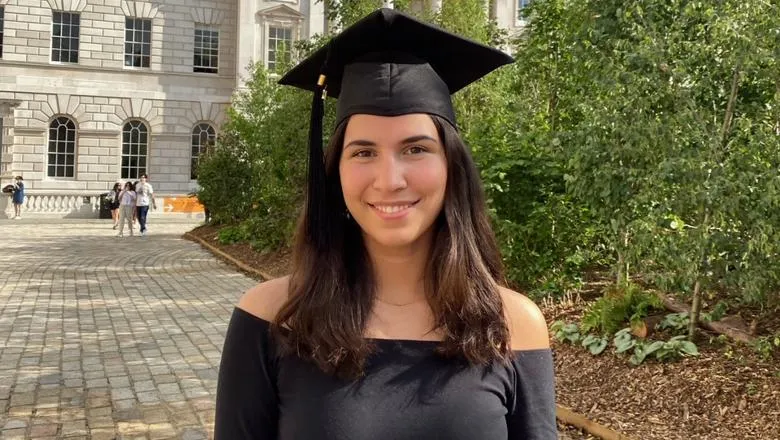 Recent graduate Dara Engelbrekt has won the Department of Geography's 'Best Undergraduate Dissertation' award for her work looking at obstacles that affect energy efficiency policies in the EU.
Having initially become interested in interactions between people, policy and technology, Dara, who graduated this summer with a BA Hons in Geography, narrowed down her focus onto natural resources and international politics on energy.
She chose to look at energy use in Sweden and the challenges of implementing a coherent EU energy efficiency policy after reading an article in a Swedish newspaper about how EU policy could affect the Swedish energy industry. The op-ed article explored why many Swedish stakeholders from the housing and energy sectors are against the EU bill, which affects energy metering.
Whilst working on her dissertation, Dara liaised with the Swedish government to examine both their policy documents and communications with the EU, and carried out a focus group on energy use in Sweden.
Upon accepting the award, Dara, who is now studying for an MPhil in Environmental Policy at Cambridge University, said:
"I really enjoyed writing my dissertation and having the opportunity to delve deeper into a topic I am passionate about. As a Geographer, I thought it was very interesting to explore how local everyday practices of energy consumption and local stakeholders interact with broader, international environmental policy goals. I think the research is important because it addresses issues in EU policymaking that are going to be key to consider as we focus on transitioning toward a green economy."
Dara's dissertation 'Understanding the obstacles to a coherent EU energy efficiency policy: The case of implementing the Energy Efficiency Directive in Sweden' was supervised by Dr Alex Loftus, who is a Reader in Political Ecology.
Read Dara's blog on on why she studied geography and what led her to choose her dissertation topic.  
Read Dara's dissertation
'Understanding the obstacles to a coherent EU energy efficiency policy: The case of implementing the Energy Efficiency Directive in Sweden'