14 December 2020
GKT Education Excellence Award won by the Centre for Team-Based Practice & Learning in Health Care
Benjamin Buckley wins Administrator of the Year Award 2020.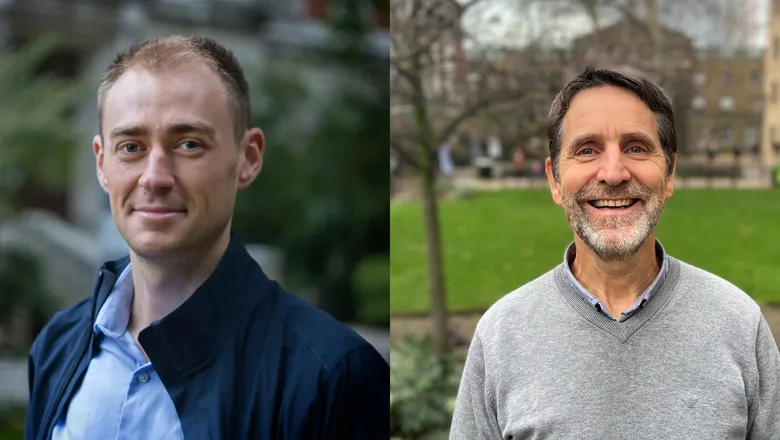 Benjamin Buckley & Rick Iedema
The Centre for Team-Based Practice & Learning in Health Care's Operations Officer Benjamin Buckley has won the GKT School of Medical Education's Administrator of the Year Award for 2020. Given to an administrator who has achieved excellent feedback, gone above and beyond in their service to King's students, and enabled a consistently excellent student experience over the course of the year, Benjamin's award recognises his contribution to enabling interprofessional education to be delivered despite the challenges to education caused by the pandemic.
This academic year all 35,000 hours of interprofessional education will be delivered online. Of the 2019-20 initiatives, one has been cancelled, five have been adapted for online delivery and three have been created for ongoing online delivery. The volume of teaching delivered by the Centre will increase by more than 10% this academic year despite the challenges the pandemic has created for the delivery of education. Credit belongs to all those who contribute to interprofessional education at King's.
Professor Rick Iedema, Director of the Centre, said: "Ben Buckley's contribution to King's interprofessional learning programme has been transformational. Thanks to his systems experience and interpersonal skills, he has built a hugely efficient and user-friendly IPE interface and operational structure, expanding our opportunities for fast-tracking programme growth, improvement and impact."
Benjamin said: "I'm very happy to be recognised. It was a lot of work that required a lot of learning. Colin Butchers, Kate Bazin, Rita Shah, Christine Kakai and Mary Raleigh, thank you."