17 November 2017
Global Partnerships
Global Partnerships are vital amongst researchers seeking to understand and address the burden of oral disease. Over the past two years Professor Jenny Gallagher and Dr Eduardo Bernabe from Population and Patient Health at King's College London's Dental Institute have been working in partnership with colleagues from the premier dental school in China, Peking University School of Stomatology and the team led by Professor Shuguo Zheng.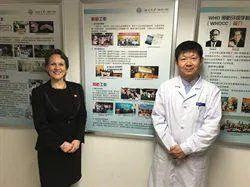 One of the team from PKUSS, Dr Xiangu Sun, recently spent one year at King's to help develop the partnership and work on the interesting project. Together the joint teams undertook secondary analysis of the third Chinese National Oral Health Survey dataset and have published the findings. They examined the relationships of proximal and distal determinants of health and their implications for action, including implications for the future Chinese dental workforce and public health policies.
The teams found that:
1.       Certain early life factors (feeding and toothbrushing) play a role in dental caries among Chinese preschool children and commencing toothbrushing before the age of one year is important to prevent dental caries (tooth decay).
2.       Out-of-pocket expenses for dental services (exceeding 10% of household finances) may put a considerable and unnecessary burden on household finances, with socio-economic (education and household income), household size and dental status (pain in teeth or mouth; number of teeth) important individual level factors and GDP per capita at province level.
3.       Amongst senior adults, contextual level factors (public health expenditure, dentist-to-population ratio, proportion of smokers and proportion of minority ethnic groups) were associated with periodontal disease (the number of teeth with loss of attachment of 4mm and over) and may explain geographical inequalities in oral health.
4.       There is a significant gap between the oral health needs of Chinese people and the level of dental workforce. Explored various approaches to managing oral disease and reducing the risk of future disease amongst 12-year-old school children.
The teams are currently collaborating on developing a deeper understanding of the current Chinese workforce and oral diseases.