30 November 2017
Grant success
Dr Reham Alharatani has received a Faculty of Dental Surgery/Royal College of Surgeons - British Society of Paediatric Dentistry Small Grants Award for her study entitled "Genetic Associations between Oral Clefting and Dental Anomalies in Children and their Families". Dr Alharatani is undertaking her PhD studies in the Centre for Craniofacial and Regenerative Biology under the supervision of Dr Karen Liu and Prof Marie-Thérèse Hosey. Here, she is shown receiving the award presented by Professor Nigel Hunt at the 70th anniversary of the Faculty of Dental Surgery of Royal College of Surgeons of England.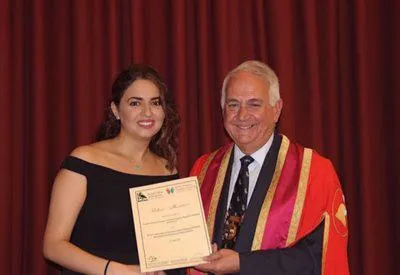 In 2017 the Faculty of Dental Surgery awarded almost £300,000 in research funding, in the form of dedicated research fellowships, to allow talented individuals to pursue full-time research, or as small grants to pump- prime exciting new projects. A number of these have been awarded in partnership with specialist societies.
Congratulations Dr Alharatani!