10 June 2013
Growing up with a city: Young People and the Shaping of Public Space in Melbourne, 1870–1914
Dr Simon Sleight, Senior Lecturer in Modern British History in the Department of History, has released a new book Young People and the Shaping of Public Space in Melbourne, 1870–1914.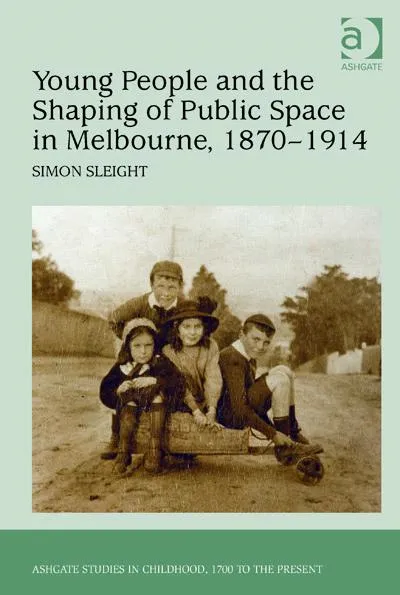 Cover for 'Young People and the Shaping of Public Space in Melbourne, 1870-1914', by Dr Simon Sleight, published by Ashgate.
Young people do not just live in cities, they also mould them. Re-imagining the urban outdoors from the vantage points of young people themselves, a new book by Dr Simon Sleight, Lecturer in Australian History, casts current concerns about delinquent youth or 'cotton-wool kids' into a longer view. Young People and the Shaping of Public Space in Melbourne, 1870–1914 has just been published in Ashgate's 'Studies in Childhood Series'.
Baby booms have a long history. In 1870, colonial Melbourne was 'perspiring juvenile humanity' with an astonishing 42 per cent of the city's inhabitants aged 14 and under - a demographic anomaly resulting from the gold rushes of the 1850s. Within this context, Dr Sleight enters the heated debate concerning the future prospects of 'Young Australia' and the place of the colonial child within the incipient Australian nation. Looking beyond those institutional sites so often assessed by historians of childhood, he ranges across the outdoor city to chart the relationship between a discourse about youth, youthful experience and the shaping of new urban spaces. Play, street work, consumerism, courtship, gang-related activities and public parades are examined using a plethora of historical sources to reveal a hitherto hidden layer of city life. Capturing the voices of young people as well as those of their parents, this book alerts us to the ways in which young people shaped the emergent metropolis by appropriating space and attempting to impress upon the city their own desires. Here a dynamic youth culture flourished well before the discovery of the 'teenager' in the mid-twentieth century; here young people and the city grew up together.
For further information, see Ashgate's Website.
The book will be launched at King's on the evening of Friday 19 July. If you would like to attend, please email simon.sleight@kcl.ac.uk.