06 February 2018
Healthy Lives, Healthy Planet
King's College London is a partner in a major new research initiative which will examine how urban development can ensure healthy lives for all, whilst also protecting the planet.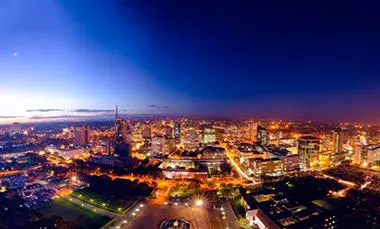 A city at night, from above
Healthy Lives, Healthy Planet: Major New Research Hub to Address Urban Health Inequalities & Sustainability
King's College London is a partner in a major new research initiative which will examine how urban development can ensure healthy lives for all, whilst also protecting the planet.
The research partnership has been funded by a £10 million grant from the Wellcome Trust's 'Our Planet, Our Health' programme. The new project will create one of the world's leading research centres in this field: the 'London Hub for Urban Health, Sustainability & Equality'.
Two integrated projects, one coordinated by University College London and one coordinated by Imperial College London, each supported by £5 million, will work closely with 10 cities across four continents, with the aim of developing evidence-based policy options that promote health for the majority of the world's city dwellers.
King's is collaborating on the Imperial-led arm of the project: 'Pathways to Equitable Healthy Cities'. Researchers from King's will work with colleagues to examine health inequalities and policy responses in transport, housing, water and waste management, along with access to health/ urban services. Research will focus on London (UK); Dhaka (Bangladesh); Vancouver (Canada); Beijing (China); Accra and Tamale (Ghana).
King's involvement in the project is led by Professor Frans Berkhout, Executive Dean in the Faculty of Social Science & Public Policy, and Professor Frank Kelly, Professor of Environmental Health, Faculty of Life Sciences & Medicine. Commenting on the research initiative Professor Frans Berkhout said: "King's College London is part of a global consortium of leading universities seeking to answer the fundamental question of how we can design cities to achieve better and more equal health outcomes, in six major cities around the world. This is really exciting interdisciplinary research, working with stakeholders in diverse cities, which aims to achieve step-changes in health, especially in more vulnerable groups."
By 2050, over 70 per cent of the world's population is expected to live in cities. Although city dwelling can lead to opportunity and better health outcomes for many, the urban poor in many cities experience poor sanitation, unclean water and unsafe housing, leaving them vulnerable to ill health and natural disasters. As the world's population grows, city services become stretched, whilst ever-increasing demands are placed on natural resources, through unsustainable urban development. More extensive policies are needed to address both health inequalities and to improve sustainability across the world's cities.
Collaborators on the Imperial-led part of the project, along with King's, are: Public Health England; the University of British Columbia; McGill University; the Harvard T.H.Chan School of Public Health; University of Chicago; Tsinghua University; Anzhen Hospital in China; the University of Ghana; and BRAC University in Bangladesh.
The second arm of the project, led by UCL, will focus on London (UK), Beijing (China), Ningbo (China), Rennes (France), Nairobi and Kisumu (Kenya).
Across both projects, teams will gather local data and model policy scenarios, to see whether policy options are likely to be successful in reducing health inequalities in urban environments, sustainably, or will reveal unintended consequences.
The Wellcome Trust commented: "Our cities will need to adapt to ensure that all people can live healthy lives while protecting the planet…This new partnership will create a world-leading hub for urban health, addressing many of the unanswered questions that have previously stood in the way of progress".