01 August 2019
Helping our homeless community
King's staff and students volunteer with our homeless community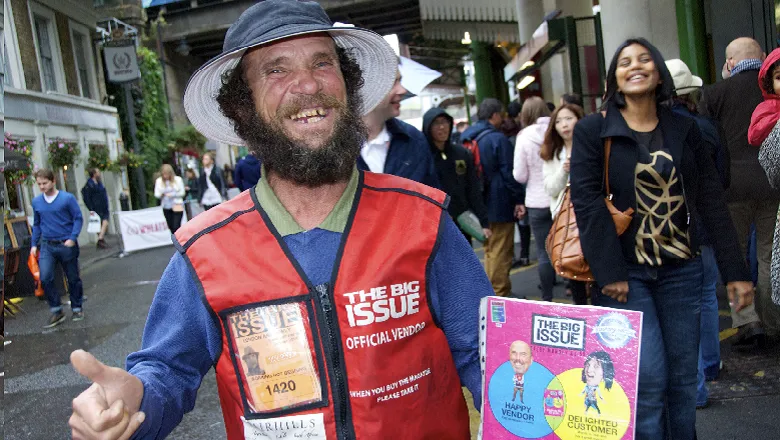 Homelessness is a complex social problem which can be defined as an experience of living in temporary or unsuitable accommodation, as well as rough sleeping.
According to research carried out by Homeless Link, the number of people sleeping rough has been rising nationally. At present, there are at least 320,000 homeless people in the UK and rough sleeping has increased for the seventh consecutive year. Since 2010, there have been particularly sharp increases in London and South East England.
People who are homeless also have widespread health issues due to their living environment and difficulties in assessing healthcare. They are more susceptible to infections, dental problems, cardiovascular diseases and mental health issues.
Areas local to King's College London and King's College Hospital NHS Foundation Trust recorded a shocking ten-fold increase in the number of visits to the Emergency Department in the past seven years by homeless people. Admissions to hospital wards have also increased drastically. This suggests that the quality of homeless people's health is falling.
King's students and staff are reaching out to our homeless community and raising awareness for the difficulties they face in several ways.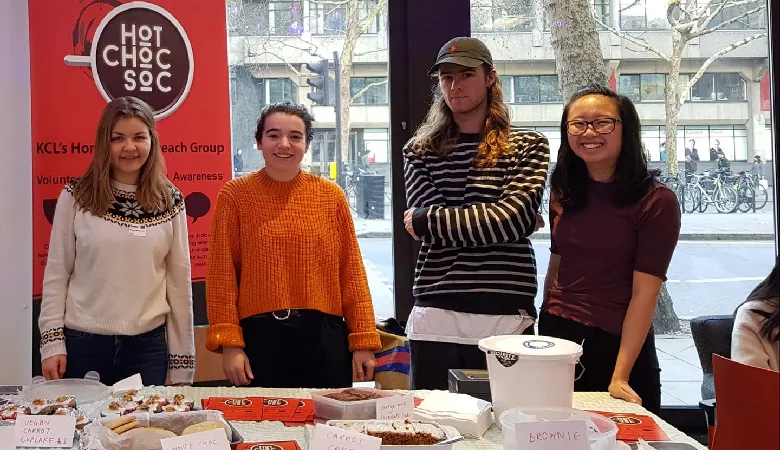 Student members of the Hot Chocolate Society at a fundraising event
Through the Hot Chocolate Society, King's students run outreach sessions in Westminster and Southwark. During these outreach sessions, students offer hot drinks and snacks to rough sleepers to initiate conversations, build friendships and try to understand homelessness from those who experience it.
The Hot Chocolate Society also organise fundraising and speaker events to raise awareness of the problems homeless people face. The students use the money they raise to buy basic hygiene products, such as toothbrushes, toothpaste, wet wipes and sanitary pads. These items are distributed in care packages as part of 'Project Santa', the Hot Chocolate Society's annual Christmas drive.
Members of the Smile Society, a student-led organisation that promotes oral health awareness, visit homeless shelters and hand out toothbrushes and toothpaste. On one visit, student volunteers handed out over 150 toothbrushes, 200 toothpastes, 102 warm socks and 20 denture fixatives to those who needed it. 
The Smile Society also provide volunteers for the Crisis at Christmas mobile dental units. Student volunteers welcome guests, take patient histories, manage paperwork and signpost dental services.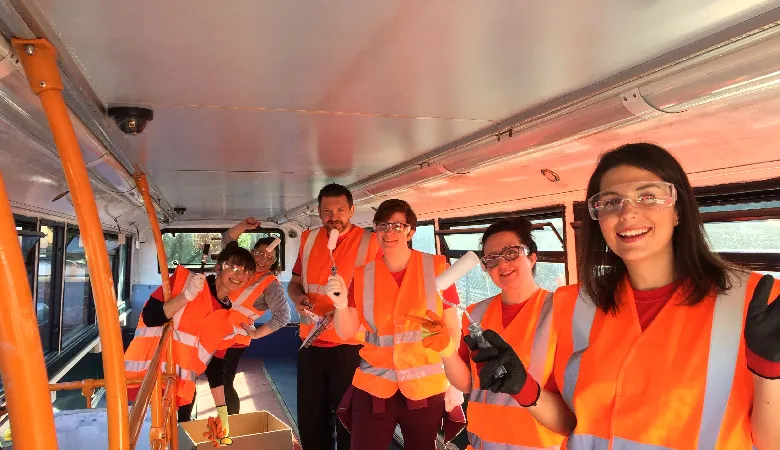 Members of the King's Venues team volunteering with Buses4Homeless
At King's, all members of staff are given one day per year to volunteer. The King's Venues team used this time to help Buses4Homeless transform four decommissioned buses donated by stagecoach into eating, sleeping, learning and wellbeing spaces.
This is only one of the many communities that King's students and staff are serving through volunteering.
Find out more about how the King's community is serving society in the university's Service annual report 2018-19.
If you are charity or community organisation looking for volunteers for your projects, please contact service@kcl.ac.uk.