19 March 2019
Her Majesty the Queen and the Duchess of Cambridge open Bush House at King's College London
Her Majesty The Queen, accompanied by Her Royal Highness The Duchess of Cambridge, today opened  Bush House at King's College London.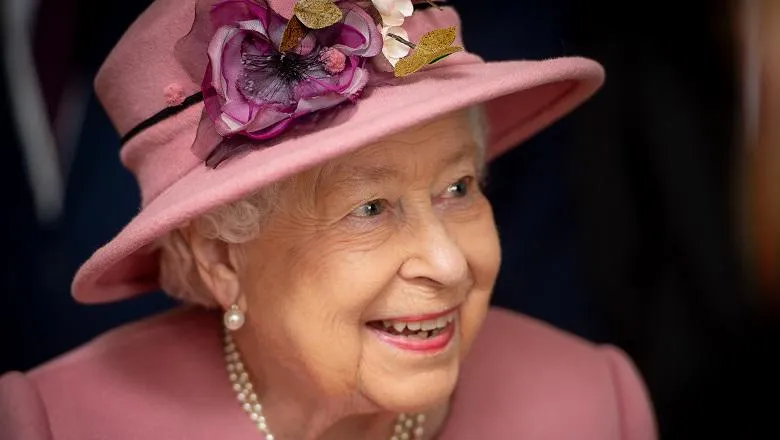 Her Majesty the Queen opens Bush House at King's College London.
The Royal Party met researchers, scientists, social scientists and students, who are undertaking ground breaking research across multidisciplinary subjects, as well as, providing an inspirational education to develop the world's leaders of the future.  
Lord Geidt, Chairman of King's College London said: 'As the fourth oldest university in England and one of the top UK universities in the world, it's appropriate that King's is the university to call Bush House home. Formerly the base of the BBC's international broadcasting, it is now our launchpad for our international service as the global university we are, providing world-class teaching and cutting-edge research, here in the heart of London.' 
King's leads the way on research, pioneering new ideas to make the world a better place. Bringing together thousands of researchers and students from 15 different departments and institutes, across three faculties, as well as the Student Union, Bush House provides an environment that fosters collaboration and enhancing links between academic institutions and industry partners, to translate research into real-world solutions. 
Professor Ed Byrne AC, President & Principal, King's College London said: 'We are delighted and most grateful to Her Majesty The Queen and HRH The Duchess of Cambridge for opening the new Bush House buildings, here at King's. Today, Bush House provides a creative environment that fosters innovation and collaboration and supports our vision to serve society by delivering world-class inspirational education, innovative research and life-changing impact across the globe. This unites and symbolises our national and international reputation and aspirations with our global history and connections, bringing together our interdisciplinary research and education in one place, as we strive to make the world a better place and serve society.' 
While they toured the new building complex, The Queen and The Duchess saw various members of King's College London Student Union before chatting to world leading researchers, academics and students from the university's Centre for Robotics Research and watching a number of demonstrations.  On display were 
'smart' textiles and clothing which can measure physical performance, including muscle activity, gait and posture, all of which help improve lives and rehabilitation from physical trauma.  
a tentacle like robot designed for safer, faster non-invasive endoscopic surgery to treat early stage cancers.  
King's Artificial Intelligence work on a Mars Rover, allowing it to forward plan activities and speed up scientific exploration on the red planet. 
While visiting the trading floor in the King's Business School, The Queen and HRH The Duchess met students from the Student Investment Portfolio. With real-time access to Bloomberg data, the Royal Party witnessed how the students invested ethically in green stocks and shares as they explored sustainable and environmental financial trading. The Royal Party also heard from a number of students from the Entrepreneurship Institute, which exists to support entrepreneurial thinking, skills and experiences amongst King's students, staff and alumni. Among the entrepreneurs, all of whom have received support and investment from the Entrepreneurship Institute, allowing them to kick start their business ideas were: 
Tobi Oredein, co-founder of Black Ballad, a UK based lifestyle platform that seeks to tell the human experience through the eyes of black British women  
Nik Higgins, co-founder of The Access Platform, a tool that allows prospective students to get in direct contact with current undergraduate students  
Dr Bhavagaya Bakshi, alumna, GP and co-founder of C the Signs, a digital tool that uses AI and the latest evidence to help GPs identify patients with cancer at the earliest and most curable stage 
At the end of the visit, the Royal Party viewed the development's new auditorium, where they heard about King's world breaking research into wildfires and weather patterns, as well as innovative research into urban science improving public health and wellbeing, through CUSP London. Her Majesty then unveiled a plaque, formally opening Bush House, before signing the Visitor's Book alongside Her Royal Highness.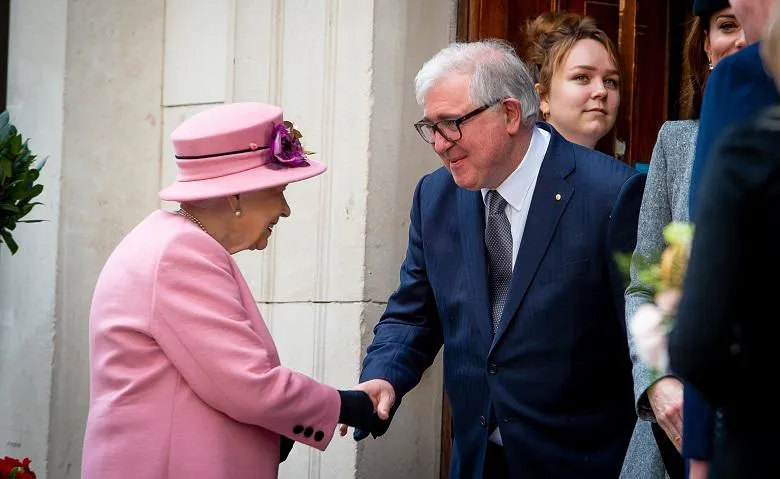 Notes to Editors: 
Acquired in 2014, the legacy of the BBC World Service lives on at King's Bush House; instead of reporting on the most pressing global issues of the day, the departments within Bush House today are dedicated to finding innovative solutions to the global challenges of the 21st century and beyond.  
Bush House is home to the King's Business School, the Department of Informatics and the faculty of Social Sciences and Public Policy, the Student Union and the Arcade – an open space showcasing creative and surprising cultural collaborations, and the King's College London Student Union unites diverse student voices, giving them a platform to contribute to debates of local, national and international importance.  
King's Bush House buildings provide a home for many of their academic departments, as well as state-of-the-art learning and social spaces and enhanced student facilities. Staff and students have now moved into these new buildings, which include lecture theatres, teaching rooms, a 395-seat auditorium, and The Exchange, an open, collaborative space designed for events and exhibitions. 
Her Majesty The Queen, Patron, previously visited King's College London in November 2012 to open the Dickson Poon School of Law and in 2002 to open King's new Maughan Library. In January 2018 The Duchess of Cambridge visited The Maurice Wohl Clinical Neuroscience Institute at King's College London's Denmark Hill Campus.  
His Royal Highness The Duke of Edinburgh is a Life Governor of King's College London and Her Royal Highness The Princess Royal has been a Fellow since 1989.  
King's College London is one of the top universities in the world and among the oldest in England. King's has more than 31,000 students (including more than 12,800 postgraduates) from some 150 countries worldwide, and some 8,500 staff. 
King's has played a major role in many of the advances that shape modern life, such as the discovery of the structure of DNA and research that led to the development of radio, television, mobile phones and radar. King's leads the way on research and pioneers new ideas to make the world a better place. 
King's has an outstanding reputation for world-class teaching and cutting-edge research. In the 2014 Research Excellence Framework (REF), eighty-four per cent of research at King's was deemed 'world-leading' or 'internationally excellent' (3* and 4*).  
Since our foundation, King's students and staff have dedicated themselves in the service of society. King's will continue to focus on world-leading education, research and service, and will have an increasingly proactive role to play in a more interconnected, complex world. Visit our website to find out more about Vision 2029, King's strategic vision for the next 10 years to 2029, which will be the 200th anniversary of the founding of the university.  
World-changing ideas. Life-changing impact: https://www.kcl.ac.uk/news/headlines.aspx