10 March 2016
History alumna Rebecca Titus Cobb named Future Legal Mind award finalist
KCL alumna Rebecca Titus Cobb (BA History, 2012) became a finalist for the Future Legal Minds 2016 award after having wowed the award's judges with an essay on the future of legal services for firms and consumers.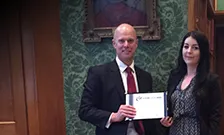 Future Legal Mind is a national award for UK-resident students, set up by National Accident Helpline to recognise young legal talent. KCL alumna Rebecca Titus Cobb became a finalist after having wowed the award's judges with an essay on the future of legal services for firms and consumers. 
Rebecca is originally from Staffordshire and now lives in Manchester. She graduated from King's in 2012 with a first class degree in History. Following graduation, she worked as a Caseworker and Constituency Assistant for an MP and now works as a Commissioner Support Officer for the Independent Police Complaints Commission, assisting the Commissioner with complaints made against the police and incidents of police misconduct.
Alongside her employment, she is currently studying the Graduate Diploma in Law (GDL) part time at BPP University and plans to study for the Bar Professional Training Contract (BPTC). Rebecca is specifically interested in Human Rights Law and public law, especially how the law impacts on the function and duties of public bodies.

Rebecca enjoys travelling and learning languages; she has previously studied Russian and Spanish in her spare time.
The Future Legal Minds award was launched in 2014 and aims to identify the next generation of high fliers in the legal world, offering law students the opportunity to win up to a £5,000 scholarship towards their studies and a work experience placement at leading law firm Simpson Millar.  Rebecca was one of 10 finalists for the 2016 award, which were presented at a glamorous ceremony at the historic Lincoln's Inn in central London on Wednesday 9 March. 
Rebecca Titus Cobb, Future Legal Mind 2016 finalist, said:
"I am delighted to have been shortlisted as a finalist for the 2016 Future Legal Mind competition. I feel very privileged to be able to compete in this competition and am proud that my entry has been considered alongside the other finalists, especially given the high standard of previous candidates and winners."