07 April 2016
Honorary Doctorate Awarded to Nobel Prize Winner Stefan Hell
The Department of Physics at King's College London and the King's Randall Division of Cell and Molecular Biophysics today awarded an honorary doctorate to Nobel Prize winning scientist, Professor Stefan Hell, in recognition of his work in the area of biophysics. Professor Hell visited King's to receive the award and also did us the honour of giving the Rosalind Franklin Lecture titled "Optical microscopy: the resolution revolution". During the lecture he discussed new ways of overcoming the diffraction limit so that we can observe objects that are finer than half a wavelength of light (200-400nm, or about the size of a virus particle). This is done by transferring certain molecules to light and dark quantum states for a brief period, allowing for their detection. This method can then be used to generate images of nanoscale objects, such as tissues and living cells.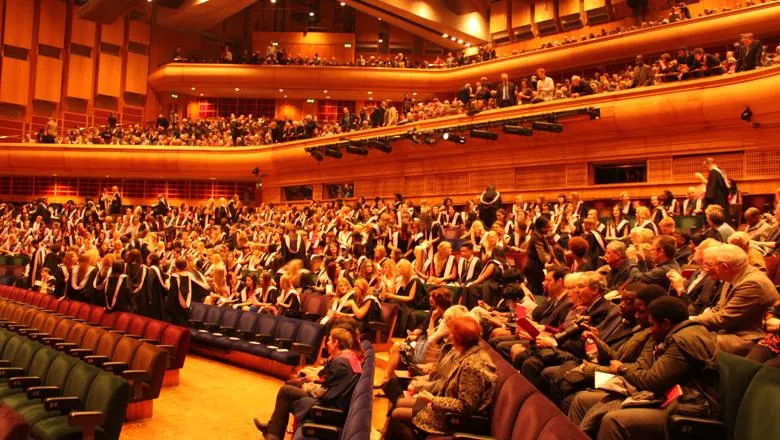 Graduation ceremony audience and graduands
Professor Hell has had a close association with King's for a number of years as high resolution fluorescence microscopy is a major research focus in both the Department of Physics and the Randall Division. King's also has a storied history in the fields of both biophysics and biochemistry, with Rosalind Franklin, Maurice Wilkins and their research staff completing much of the work that led to the discovery of the structure of DNA here and the Nobel Prize for Chemistry being awarded to King's alumnus Professor Michael Levitt in 2013. 
Following the lecture, Professor Klaus Suhling from the Department of Physics read out the citation for Professor Hell and the honorary doctorate was presented by the President & Principal of King's College London, Professor Edward Byrne AC and a representative from the King's College London Council, Mr Andrew Summers.