25 November 2020
How military innovation can benefit from cooperation
Sophia Becker, Christian Mölling, Torben Schütz
The struggle for information is likely to be a key battleground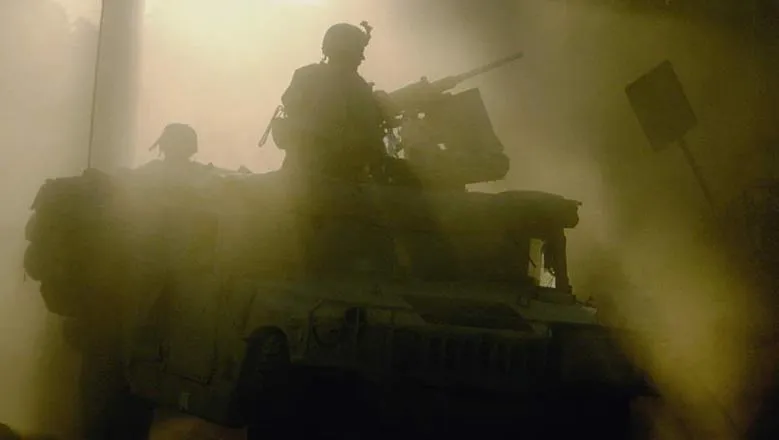 Learning together: UK-Germany cooperation on military innovation and the future of warfare
Read the briefing
A German translation of this article is available below.
In recent years, Germany and the UK have expressed a desire for closer cooperation in the area of defence. Any such cooperation also has to look ahead and think about strategic challenges of the future. Both the advance, as well as the convergence, of some critical technologies are expected to change how humans live, work, play – and wage war. With tightening financial resources and a challenging economic situation, cooperation in the field of military innovation would be fruitful for both Germany and the United Kingdom.
Yet, when looking closer at how both countries approach this issue, there is clear divergence in their respective preparedness for military innovation. This poses some challenges but also offers opportunities to learn from one another.
Strategic and operational challenges
Both Germany and the United Kingdom see themselves faced with a return of great power competition and the threat of peer-to-peer conflict. With it, the importance of new areas such as cyber and space increase significantly, as the new state competitors can operate more easily in these domains than insurgents and non-state actors. At the same time, rapid technological change often coincides with a wealth of new ideas about war and warfare. Today, developments in robotics, digitisation and automation have huge potential to change the future of warfare.
Operationally, both armed forces recognise the importance of certain mega-trends, with access and control of all five domains (land, air, sea, space, cyber) to be heavily contested and with growing threats to the information environment. Both armed forces expect the struggle for information – its generation, distribution, and effective use – to be a key battleground.
Investment in military innovation therefore becomes paramount in order to keep abreast of these developments. However, the UK and Germany have slightly different approaches for how to deal with the growing relevance of the new military domains. The UK focuses more on doctrinal changes and technologically advanced training. And while the UK Ministry of Defence seems to funnel serious investment into advanced and digital training possibilities for its forces, nothing on that scale exists in Germany.
Challenges for military innovation: resources and political-military support
There are two key challenges for military innovation that both countries face: balancing limited financial resources and the political-military support for such technological advances. First, constrained resources will likely form the background for military innovation in both Germany and the United Kingdom. This will remain true despite the recent defence spending review announcement by the British government. Both armed forces need to finance ongoing legacy programmes and capabilities while weighing the amount of investment into new technologies and domains against it.
Political leadership currently does not massively interfere with force-planning, leaving the armed forces free to come up with their visions of future warfare. However, this model might run into problems. In particular, the integration of uninhabited systems and the idea of automation and (a level of) autonomy in weapons systems is a political and societal concern in Germany and the UK. Hence a potential misalignment between military visions and means of future warfare, on the one hand, and political support for further research and implementation, on the other hand, might arise.
Comparing defence innovation ecosystems and organisational cultures
While both countries indeed maintain capable defence industrial ecosystems, the UK and its more open system are better positioned to take full advantage of traditional and non-traditional suppliers involved in defence innovation. Its instruments are better designed to capture technological innovation across the whole spectrum, while current German defence instruments too narrowly focus on digitalisation. Its focus on digital and cyber innovation might achieve digitalisation and networking of assets as central requirements of future forces. Still, robotics and automation are not included in this – at best, these areas are entrusted to traditional actors such as large defence companies.
The German defence ecosystem has culturally induced blind spots in emerging technologies that are not software (eg robotics), and so far also does not seem keen on reforming key doctrines and training methods. Overall, visions of operational challenges and industrial efforts seem more aligned in the United Kingdom, where there is broader scope for potentially useful technologies and collaboration between actors. Moreover, it puts more effort into user-centric approaches like prototype warfare.
A small set of interacting cooperation initiatives could help both countries to mitigate resource scarcity and help – especially Germany – to overcome their blind spots:
Embrace reciprocal conceptual and organisational learning: Germany could certainly learn from the British open and user-centric approach to innovation.
Encourage radical thinking, but benchmark continually: A dedicated joint training centre or a joint experimental unit, especially for uninhabited systems and their integration, could provide an opportunity to test and learn together in Germany (Sennelager Training Area) or at Salisbury Plains in the UK.
Seek equipment cooperation in uninhabited systems: Maritime and aerial cooperation could be less controversial, while cooperation in the land area certainly would be very promising due to the potential capability gains.
Strengthen standardisation through NATO: Germany and the UK, still in the process of digitalising their national armed forces, would benefit from pushing this topic early on in NATO while modelling national development efforts accordingly.
Sophia Becker is a Research Fellow for US Security & Defense Policy at the German Council on Foreign Relations.
Christian Mölling is Research Director at the German Council on Foreign Relations.
Torben Schütz is a Research Fellow for Armament Policy at the German Council on Foreign Relations.
Wie militärische Innovation von einer Zusammenarbeit profitieren kann
In den letzten Jahren haben Deutschland und das Vereinigte Königreich den Wunsch geäußert, im Verteidigungsbereich enger zusammenzuarbeiten. Eine solche Zusammenarbeit muss dabei natürlich auch zukünftige strategische Herausforderungen in Betracht ziehen. Sowohl Fortschritt als auch Konvergenz einiger kritischer Technologien werden Leben, Arbeit und Freizeit des Menschen ändern – und wie wir Kriege führen. Mit knapper werdenden finanziellen Ressourcen und einer schwierigen Wirtschaftslage würde sich eine Zusammenarbeit im Bereich der militärischen Innovation für beide Länder lohnen.
Schaut man sich jedoch die Ansätze beider Länder genauer an, so wird deutlich, dass es hier eine klare Abweichung in der jeweiligen Bereitschaft zu militärischer Innovation gibt. Dadurch entstehen einige Herausforderungen, aber auch die Möglichkeit, voneinander zu lernen.
Strategische und operative Herausforderungen
Sowohl Deutschland als auch das Vereinigte Königreich sehen sich einer Rückkehr der Großmachtkonkurrenz und der Bedrohung von Peer-Konflikten gegenüber. Damit einher geht die steigende Bedeutung von neuen Bereichen wie Cyber- und Weltraum, da die neue staatliche Konkurrenz in diesen Bereichen einfacher agieren kann als Aufständische und nichtstaatliche Akteure. Gleichzeitig bringt rascher technologischer Wandel oftmals neue Ideen über Krieg und Kriegsführung mit sich. Gegenwärtig besitzen Entwicklungen in der Robotik, Digitalisierung und Automatisierung ein riesiges Potential zur Veränderung der zukünftigen Kriegsführung.
In Bezug auf den Einsatz erkennen beide Streitkräfte die Bedeutung gewisser Megatrends, wobei Zugriff und Kontrolle aller fünf Bereiche (Land, Luft, See, Raumfahrt, Cyberraum) stark umkämpft sein werden und die Informationsumgebung zunehmend bedroht wird. Beide Streitkräfte erwarten, dass der Kampf um Informationen – deren Erzeugung, Verteilung und effektiver Einsatz – ein Hauptschlachtfeld darstellen wird.
Investitionen in militärische Innovation rücken dadurch in den Vordergrund, um so mit diesen Entwicklungen Schritt halten zu können. Jedoch besitzen Deutschland und das Vereinigte Königreich leicht unterschiedliche Ansätze für den Umgang mit der wachsenden Relevanz der neuen militärischen Bereiche. Das Vereinigte Königreich konzentriert sich hier eher auf Änderungen der Doktrinen und technologisch fortschrittliches Training. Während das britische Verteidigungsministerium erhebliche Investitionen in fortschrittliche und digitale Trainingsmöglichkeiten für seine Truppen tätigt, ist in Deutschland nichts in diesem Ausmaß vorhanden.
Herausforderungen für militärische Innovation: Ressourcen und politisch-militärische Unterstützung
Die zwei großen Herausforderungen für militärische Innovation, denen sich beide Länder gegenüber sehen, liegen im Ausgleich der begrenzten finanziellen Ressourcen und der politisch-militärische Unterstützung für solche technologischen Fortschritte. Zuerst werden wahrscheinlich begrenzte Ressourcen den Hintergrund für militärische Innovation sowohl in Deutschland als auch im Vereinigten Königreich bilden. Dies wird ungeachtet der aktuellen Ankündigung der britischen Regierung über die Prüfung der Verteidigungsausgaben so bleiben. Beide Streitkräfte müssen fortlaufende Altprogramme und Ressourcen finanzieren, dabei jedoch die Höhe der Investitionen in neue Technologien und Bereiche dagegen abwägen.
Die politische Führung greift derzeit nicht massiv in die Streitkräfteplanung ein, wodurch die Streitkräfte ihre eigene Vision der Kriegsführung entwickeln können. Das kann jedoch zu Problemen führen. So sind insbesondere die Integration von unbemannten Systemen, und die Idee der Automatisierung und (der Grad der) Autonomie in Waffensystemen in Deutschland und im Vereinigten Königreich ein politisches und gesellschaftliches Anliegen. Dadurch kann zum einen eine Abweichung zwischen den Visionen des Militärs und zukünftigen Mitteln und zum anderen politische Unterstützung für weitere Forschung und Implementierung entstehen.
Der Vergleich von Ökosystemen und Organisationskulturen im Bereich der Verteidigungsinnovation
Während beide Länder kompetente industrielle Ökosystems für die Verteidigung besitzen, ist das Vereinigte Königreich mit seinem offeneren System besser positioniert, um von traditionellen und nicht traditionellen Ausrüstern, die an der Verteidigungsinnovation beteiligt sind, in vollem Umfang zu profitieren. Hier sind die Werkzeuge besser gestaltet, um technologische Innovation über das gesamte Spektrum zu erfassen, während aktuelle deutsche Verteidigungswerkzeuge zu sehr auf Digitalisierung konzentriert sind. Der Fokus auf digitale und Cyberinnovation kann die Digitalisierung und Vernetzung von Ressourcen als zentrale Voraussetzung für zukünftige Truppen ermöglichen. Die Bereich Robotik und Automatisierung werden hier nicht mit eingeschlossen, sondern werden bestenfalls traditionellen Akteuren wie großen Rüstungsunternehmen anvertraut.
Das deutsche Verteidigungssystem besitzt kulturell bedingt Schwachpunkte im Bereich der neu entstehenden Technologien, die nicht in den Bereich Software fallen (z. B. Robotik), und scheint bisher auch nicht willig zu sein, die wichtigsten Doktrinen und Trainingsmethode zu reformieren. Insgesamt scheinen Visionen der operativen Herausforderungen und Anstrengungen der Industrie im Vereinigten Königreich ausgeglichener, denn es besteht ein größerer Rahmen für möglicherweise nützliche Technologien und Zusammenarbeit zwischen den Akteuren. Außerdem wird sich hier mehr um anwenderorientierte Ansätze wie die Kriegsführung mit Prototypen bemüht.
Eine kleine Anzahl an Kooperationsinitiativen könnte beiden Ländern dabei helfen Ressourcenknappheit zu umgehen und vor allem Deutschland dabei helfen, diese Schwachstellen zu beheben:
Übernahme von wechselseitigem konzeptionellem und organisatorischem Lernen: Deutschland kann sicherlich von dem offenen und anwenderorientierten Innovationsansatz des Vereinigten Königreichs lernen.
Förderung radikaler Denkweisen bei fortlaufendem Benchmarking: Durch ein spezielles gemeinsames Ausbildungszentrum oder eine gemeinsame Versuchseinheit, insbesondere für unbemannte Systeme und deren Integration, könnte gemeinsam in Deutschland (Truppenübungsplatz Senne) oder in Salisbury Plains im Vereinigten Königreich getestet und gelernt werden.
Zusammenarbeit bei der Ausrüstung von unbemannten Systemen: Die Zusammenarbeit im See- und Luftraum könnte weniger kontrovers ausfallen, während eine Zusammenarbeit im Landraum aufgrund von möglichen Potenzialsteigerungen sicherlich vielversprechend wäre.
Stärkung der Standardisierung durch die NATO: Deutschland und das Vereinigte Königreich, die noch immer an der Digitalisierung ihrer nationalen Streitkräfte arbeiten, würden davon profitieren, dieses Thema schon früh in der NATO nachdrücklich zu verfolgen und die nationalen Entwicklungsarbeiten dabei entsprechend zu gestalten.