07 June 2023
How product design thinking can help to design your life
The King's Business School is adopting progressive new methodologies for helping students on its Executive MBA and International Management MSc courses, which take new approaches to solving problems. Here, Kate Woods shares her insights as to how the reapplication of a well-known product design methodology can help you reconsider personal and professional challenges.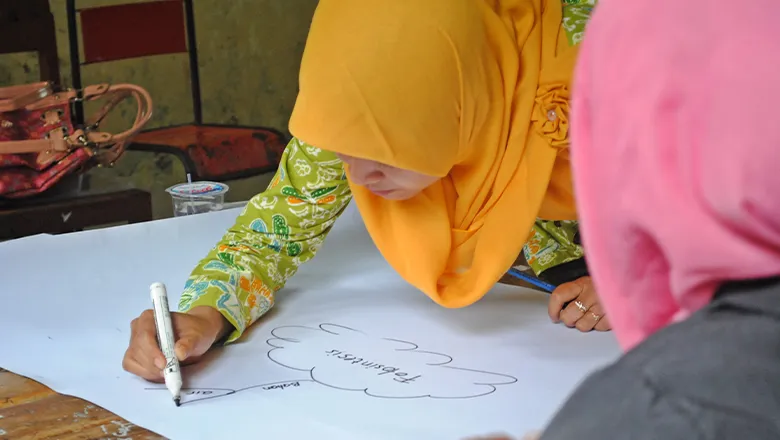 Design Thinking, made famous by David Kelly, the founder of the product design firm IDEO, is a way to approach "wicked" problems. By "wicked" we mean ill-defined challenges that don't respond to other more traditional problem-solving techniques. Aside from using Design Thinking to create products, human-centred Design Thinking can help us to think about our careers and lives – this is known as Design Your Life thinking.
Having read Dave Evans and Bill Burnett's book Designing Your Life, I visited them at the d.School at Stanford University to experience the Design Your Life (DYL) approach. As a result, King's Business School now offer this learning to our MSc International Management and Executive MBA students to help them think creatively and proactively about what sort of life and career they want to design.
Six steps to problem-solving
Design Thinking has five steps in its problem-solving methodology; empathise, define, define, ideate, prototype and test. When it comes to Design your Life thinking, we add one more step at the start - acceptance.
Empathise: In traditional Design Thinking, the process starts with empathy, meaning the ability to share the feelings and perspectives of another person to understand what they need. In the case of product design, we empathise with the product user, however with life design, the user whose needs we seek to meet is us.
Define the problem: In Design Thinking a vital step is clearly uncovering and defining the problem: what is the shape, size and characteristic of the problem? It's the same in Design Your Life.
Ideate: Designers generate a plethora of ideas - some of which are 'out there' and 'crazy'. Why? Because this technique helps us get past our brain's tendency to leap to judgment. Rather than focusing on one or two ideal solutions, in ideation we go for volume, because you choose better when you have lots of good ideas to choose from.
Prototype: Prototypes are about asking a question and getting some data about something you are interested in. Prototypes help us to experience alternatives without commitment so that we can make a better decision about what to pursue.
Test: Once we have a prototype, we test it to see if it works. This could be an internship, it could be shadowing a product manager for a day, or interviewing 5-6 product managers, this process is iterative: we build, test, get feedback and iterate again.
Accept: In Design Your Life there is an initial step of acceptance. To prepare to ideate solutions, we may have to accept some circumstances or trade-offs. For example, one idea might rule out living near family, or training for the Olympics, or we might need to accept that our choices are affected by managing an illness.
The Design Thinking mindset
Increasing our chances of designing a life that works for us is not just about following the steps of the design process. How we approach the problem is incredibly important. Product designers adopt certain mindsets to frame their thinking which are an integral part of successfully applying Design Thinking to your life. The following mindsets may be helpful:
Radical Collaboration: Viewing design as a collaborative process and taking advantage of the fact that many of the best ideas come from other people.
Reframing: Reframing enables designers to examine ways to look at problems differently or through a new lens in order to increase the opportunity for innovation.
Curiosity: Curiosity makes everything new. It invites exploration. It's an open approach to learning more. Designers look through the lens of curiosity and not judgment or rushing to solution.
Mindful of the Process: Being aware of the where you are in the Design Thinking process is important because it informs your approach. For example, are you rushing to a solution? Are you blocked? Are you energized by certain activities and drained by others?
Bias Toward Action: This is the heart of Design Thinking; you must be committed to build your way forward. Try things. Designers test out ideas, failing often until they find what works and what solves the problem. Embrace change. Designers are not attached to one particular outcome.
Adopting these mindsets is often helpful if you're struggling to make sense of where you might go and why after your studies, or at another significant moment in your life.
Applying the method
So how can you use some of these Design Thinking ideas to help you think about your career, for example?
You might start with the idea of success. A dictionary definition of success is 'the accomplishment of an aim or purpose' (Oxford Languages).
But what does success mean to you personally? Where do your definitions of success come from. Using empathy, we can uncover how we are influenced by our social connections, the people we interact with, the institutions to which we belong, and our communities.
By drawing a visual representation of your personal definition of success for yourself in five years from now, you can begin to uncover what really matters to you.
Following this with a reflection on where these ideas and images come from starts to reframe and define our thoughts and feelings to uncover our more authentic notions of success.
The next step is to ideate different definitions of success. Here it is beneficial to seek out a group of collaborators to generate different perspectives and help decide which ones might serve us better.
By noticing differences between your personal views of success and those of others, you can move your thinking forward and choose ideas to prototype. This approach may raise questions such as;
· Which other definitions of success might be more useful?
· Are any of these definitions not useful?
· What might it be like to let some long-held definitions go?
· Are there any constraints that might stop us from reaching your definition of success?
With these question in mind, and returning to your initial sketch, perhaps you can develop your reflections and create a new way of viewing success that works for you and unlocks your potential.
The King's Business School is currently accepting students to its Executive MBA, starting September 2023. The EMBA is a programme focused on using tools like Design Thinking to develop capable leaders who will use business as a tool for good in the world.
Find out more about the programme, our exclusive 15% alumni discount, and to book to speak to one of our team here.