02 April 2020
How the Aboriginal approach of yarning could offer an inclusive way of teaching and learning
Academics and students at the Menzies Australia Institute have been exploring new ways of bringing Indigenous Knowledge and cultural competency into higher education.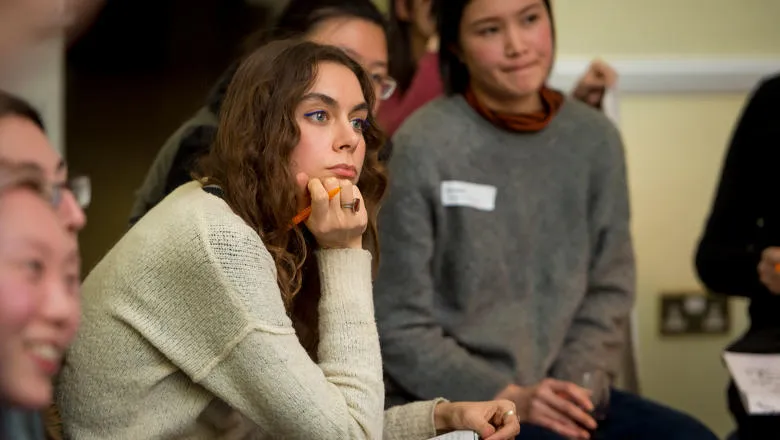 They held a workshop based on a yarning circle, which is an approach that has been used by Aboriginal people for thousands of years to discuss issues in an inclusive and collaborative manner.
The intent of the yarning circle is to direct a circular discussion on a topic and share knowledge in a respectful and inclusive way. The power of participating in a yarn lies in its ability to provide space for learning, knowledge sharing and personal reflection.
The workshop was held by Menzies Australia Institute Fellow, Dr Karen Sinclair. Participants spoke in order around the circle, with no one person leading the discussion. As such, the group were amongst peers, instead of the traditional structure of teacher and student, and as a result, they offered personal perspectives and experiences, which they might not otherwise have shared.
They introduced themselves, not by their role in King's but instead by saying where they came from. This could be seen as an uncomfortable question to ask someone in the UK because of fears it might sound racially prejudiced, but it is a fundamental one in Aboriginal circles and can often be the first thing people ask one another. From doing the same, the group learnt it had members with Anglo-Celtic, German, Italian, Afro-Caribbean, African and South Asian heritage.
"In learning to speak of ourselves as human beings of a people and place, we forged from-the-inside-out a sense of self-respect, and a sense of dignity when we felt ourselves to be brought into a kind of 'formal relation' to those who came from a different people," said Dr Ian Henderson, workshop participant and Director of the Menzies Australia Institute.
"Yarning is at once like and unlike other kinds of therapeutic sharing," he said.
"Speaking from a position outside Aboriginal culture, I see yarning as galvanised by a particular thought and cognitive practice, which does not go straight at a problem but attends in a particular way to ensuring 'everything else' is in the right place."
Aboriginal methods of teaching and learning, and their systems for recognising knowledge, remain at the border of academic practice. However, in Australia, it has become a more prominent teaching and learning method and is vital in education settings, as it establishes a stronger sense of belonging for Aboriginal students and staff, while also being inclusive of the wider university community.
The Menzies Australia Institute is keen to present cultural competency in teaching and learning practices, not so much as a professional skill, but a transformative methodology that challenges both the expert and student and enables them to collaborate at the human level.
 "Yarning approaches and yarning circles help us appreciate the function of story work as a framework for pedagogy and methodology," explained Dr Sinclair.
"It is fitting for the higher education space as it is exploratory in nature to allow all participants' voices to prevail and requires being present in the moment and listening with all senses to share knowledge and be open to possibilities."
For Dr Sinclair, working with King's is an opportunity to engage in dialogue on how we can bring to the fore Indigenous knowledges across different continents.
"Together, we can unveil the transformative potential of Aboriginal pedagogies in higher education and beyond."
In this story