20 July 2018
How to get your job application and cover letter noticed
Filling out job applications and personal statements is an art. Find out how you can stand out from the sea of job seekers and show potential employers you are the one for the job.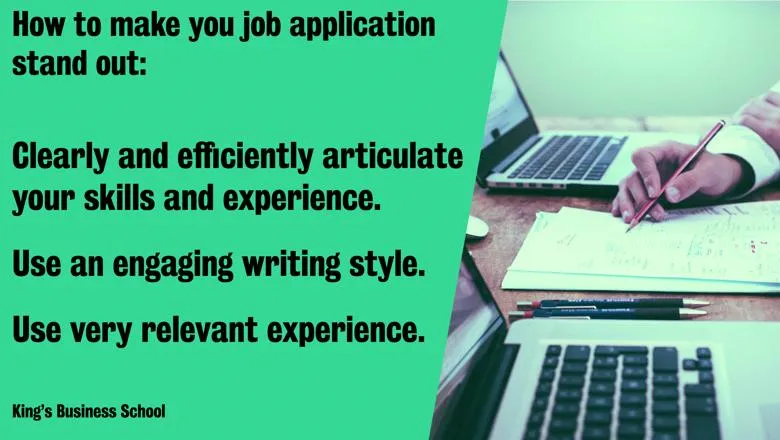 How to get your job application and cover letter noticed
Prep & research
Preparation and research are the gateways to an impressive job application. Find out as much as you can about the job you are applying for and the kind of person likely to fit it best. Once you know what they are looking for review all of your experience from university, previous employment, interests and volunteering. Identify the strongest examples for the key skills and experience the job requires.
Advice for completing application forms
Read the form through carefully noting any specific instructions by the recruiter making sure to stick to the word count if stated.
Most applications are online, make sure to write your answers in a Word document first as a draft and then paste them in to the form. This way you don't have to worry about the website losing your work.
Think about why an employer may be asking a particular question. What do they want to know?
If a question is not applicable, say so. Don't leave empty boxes.
Use positive and specific words describing your activities and interests.  
Check for spelling mistakes and grammatical errors.
Use different examples for different questions.
Don't wait until the deadline, it's easy to make mistakes under pressure.
Keep a copy of the form so that you can remember what you wrote. Also keep a copy of the job details (job description and person specification). These will be very useful if you are invited to interview.
Answering questions
Many questions on job application forms are competency-based questions, meaning a skill or attribute that the organisation wishes its employees to have. You need to answer this type of question by referring to a specific example from your past. A good habit is to use the STAR approach when answering questions.
Try to use recent examples, as these are more interesting to employers. If you can, use examples from experience that closely relates to the job you are applying for, however, examples that seemingly feel unrelated can still prove competencies effectively.
If you need to use the same example in separate questions, make sure to focus on different perspectives. Beware though, as using the same example too often can give the recruiter the impression of a lack of experience.
The STAR approach
The STAR method (Situation, Task, Action, Result) is a step-by-step, helping you give well-structured answers that effectively communicate your abilities. 
Personal statements and cover letters
Some application forms ask for a personal or supporting statement. Sometimes they will specify the type of information they want but if there are no clear directions, include:
Why you would like to work in that particular role in that organisation.
Evidence that you have the skills, knowledgeand experience required for the role (as detailed in the person specification or through your research).
Showing your motivation
Tell the employer why you want this job and show motivation and enthusiasm. Avoid vague statements and blatant flattery; be specific and illustrate your opinions with some original points. This is also the chance to deal directly and positively with any gaps or apparent weaknesses in your skills or experience.
Your closing paragraph is a good opportunity to restate your interest and summarise your suitability. If you are sending a covering letter for an unadvertised job, you can demonstrate your keenness by informing the organisation that you will follow up your letter with a phone call.
Professional style and length
You need to demonstrate your writing style and your ability to present a persuasive argument clearly using relevant information. Covering letters should normally be one page long; supporting statements are more variable but always check if you have been given a word count and make sure to stick to it. 
Make sure to spend time editing your drafted letter or statement. Take time to check your points are clear, you have covered all the requirements and your spelling is correct. It's always a good idea to have someone to review your work before it's submitted.
Tools at King's Business School
Our career consultants are here to help with your job applications and personal statements. They will be able to give you advice on how to best answer certain questions, how to give the best examples and tips for your cover letter. Book a meeting via King's CareersConnect.
King's Careers holds different workshops for students wishing to improve their CV and cover letters. Check out upcoming workshops via King's CareersConnect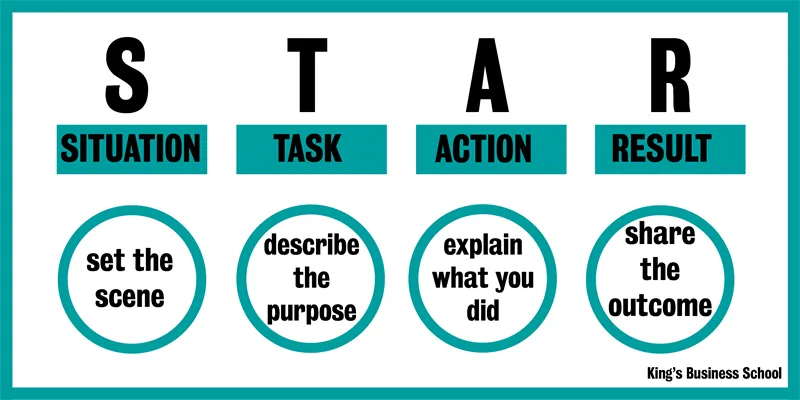 How to get your job application and cover letter noticed