10 July 2018
How to write the perfect CV
Putting together a great CV is always a difficult task, how can you list all your education and experience in two pages with enough detail to show potential employers you would make a great candidate. The truth is, a CV shouldn't be a list of everything you have ever done, it's a marketing document. In 20 seconds the employer should be able to scan your CV and see evidence of your ability to do the job.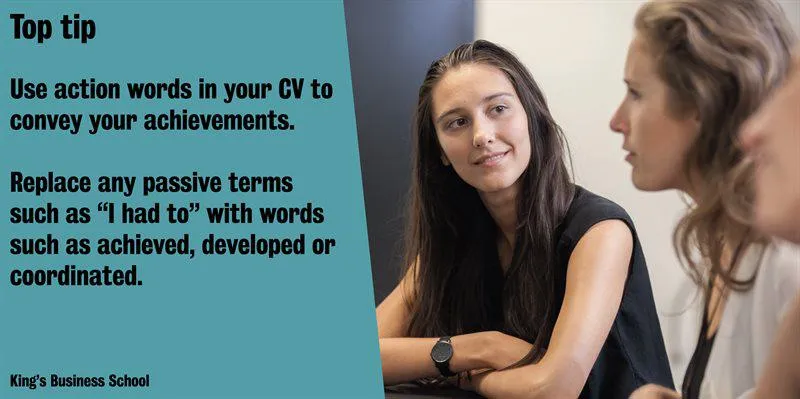 How to write the perfect CV
Steps to a great CV
Check the requirements of the job description, identifying the specific skills and experience the employer is looking for. Make sure to put relevant experience and skills at the top of your CV.
Use specific examples from work, internships, volunteering, study and interests to back up your experience. Try to choose examples that show you using the skills in a way that is similar to how they would be used in the role.
Plan the sections you need in your CV, then decide on section titles and order. Consistency of formatting is key and makes it easy for employers to pick out information quickly. Ask a family member, friend or career councillor to check your formatting is easy to understand.
Incorporate your examples into the most relevant section/s of your CV, remembering that unpaid activity (e.g. volunteering, involvement in clubs and societies) can be as valuable as paid work. What matters to employers is the skills you have developed. Make sure you have provided evidence for every job requirement.
Triple check spelling and grammar and ask someone else to proofread the final draft.
How to write persuasive examples
Each job requirement that you display must always be backed up by an example from your previous experience. Remember, your experience can come from a wide range of areas such as work experience, internships, volunteer work, university or school clubs or even sports. Try to start with the skill word at the start of your sentence to make it easier for the employer to pick out after a quick scan. Make sure to use action words to describe your impact and achievements such as 'I developed' or 'I managed'. Where you can, add quantifiable data (e.g. numbers, timescales), making your examples more concrete and believable. If you cannot use quantifiable data include a tangible outcome in your example e.g. grades, hours or increased responsibility. 
Finished?
Look at your CV as if you were the recruiter. After a quick scan, can you pick out evidence of each of the job requirements?
Unless specified by the recruiter, make sure your CV is two pages in length. 
Make sure your formatting is consistent throughout your document and proofread for any spelling or grammar mistakes. Your CV should be easy to skim read and identify headings. 
Make an appointment with your careers consultant to check over your CV and cover letter. Make sure to take a list of the job requirements with you so they can check you have everything covered. 
Once you've had someone check over your CV, upload it to Linkedin for recruiters to read when they come across your profile. 
Tools at King's Business School 
It's never too early or too late to start writing your CV. Our King's Business School career advisors are here to help you at any stage of your job hunt. The recruitment process starts rapidly approaching in your second year so it's a great idea to perfect your CV before then. Book a consultation with one of our career advisors via King's CareerConnect.
King's Careers holds different workshops for students wishing to improve their CV. Check out upcoming workshops via King's CareersConnect.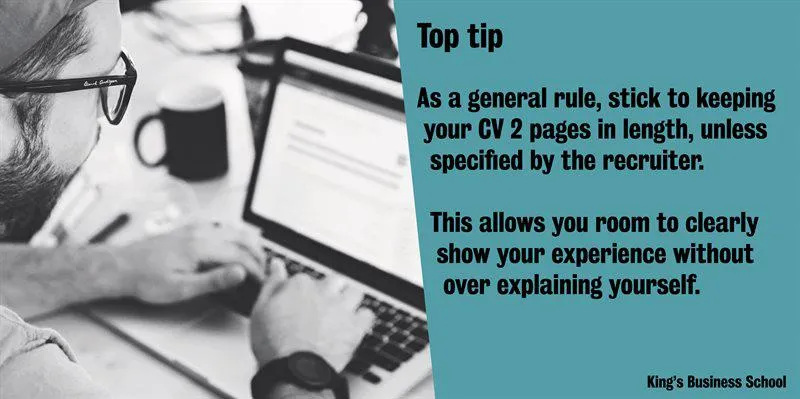 How to write the perfect CV