28 April 2023
The AI Gallery
Find out about the AI Gallery, presented by National Gallery X and the UKRI Trustworthy Autonomous Systems Hub. It is featured in the Bringing the Human to the Artificial exhibition.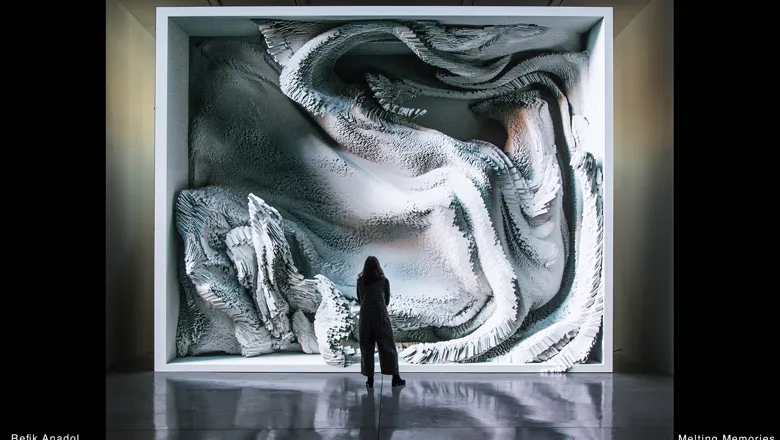 Refik Anadol, 'Melting Memories'
What if the rational capacity of AI outstrips human comprehension? As a 'British Council for AI', The AI Gallery is a thought experiment. How do we understand the cultural artifacts of an alien intelligence? Let's not confuse intelligence with sentience. But we should develop frameworks for understanding, and possibly engaging, engineered systems whose status has risen above tools. The AI Gallery imagines a future where cultural exchange may help us trust machines.
The AI Gallery is conceived by Ali Hossaini and is a joint presentation of National Gallery X and the UKRI Trustworthy Autonomous Systems Hub.
Visit The AI Gallery here to explore the artists and their work. You can also view The First, a short film which explores what happens when humans turn the table on AI. Want to learn more about how AI makes art? Visit The Chaos of Raw Unknowing which explains what an AI sees. Then listen to the Art & AI Salon podcast, where researchers from King's, the National Gallery, the Courtauld Institute, the Turing Institute and Oxford University delve into how AI art might impact society and humanity's self-conception.
Watch video interviews with the artists
Credits:
Maria Kallionpaa, 'Climb!'
Refik Anadol, 'Melting Memories'
Metem Sahin, 'Sketches with + for + from AI'
Alan Chamberlain, 'Flow 1' and 'Flow 2'
Juan Covelli, 'El Salto (The Jump/ The Waterfall)'
Sophia Crespo & Feileacan McCormick, 'Artificial Remnants'
Stephanie Dinkins, 'Bina48'
Jake Elwes, 'Queering the Dataset'
Cecilia Waagner Falkenstrom, 'Covid 19 AI Battle'
Oliver Gringrich & Shama Rahman, 'Zeitgeist'
Jennifer Gredecki/Derek Curry, 'Going Viral'
Julie Hill, 'Through Machines & Darkness'
Fabiola Larios, 'Internet Humans'
Richard Ramchurn, 'The Moment'
Tivon Rice, 'Models for Environmental Literacy'
Ali Hossaini, Oliver Gringrich, Shama Rahman, Mick Grierson, Joshua Murr, Alan Chamberlain, Alain Renaud, 'Groupthink' (promotional video).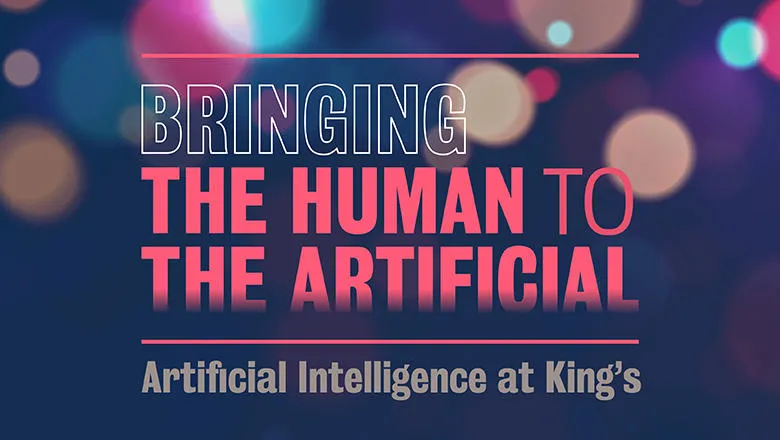 Explore artificial intelligence and automated decision-making at this King's exhibition.