04 May 2018
Iain Smith helps bring the 'Turkish Star Wars' to the big screen
A brand new 2K digital scan of the Turkish cult film Dünyayı Kurtaran Adam (The Man Who Saves the World, 1982), funded by King's College London through the Arts & Humanities Innovation Fund, will have its world premiere at The Cinema Museum in London and the Centre for Contemporary Arts in Glasgow on Friday 4 May – Star Wars day.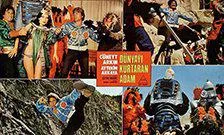 The Man Who Saves the World
The Man Who Saves the World is notorious for the ways in which director Çetin İnanç edited stolen footage from Star Wars (1977) into his own film, along with music from Raiders of the Lost Ark, Flash Gordon, and numerous others. Low-resolution and poorly-subtitled bootleg copies of the film have circulated for years, leading to its reputation as one of the worst movies ever made.
The screening is being organised by Dr Iain Robert Smith, Lecturer in Film Studies at King's College London and author of the book The Hollywood Meme: Transnational Adaptations in World Cinema that includes a case study on Dünyayı Kurtaran Adam.
Dr Smith said, 'My book The Hollywood Meme was a study of international reworkings of US cinema such as the 1974 Turkish remake of The Exorcist and the 2002 Bollywood reworking of Reservoir Dogs. One of my key case studies was Dünyayı Kurtaran Adam, the infamous 'Turkish Star Wars', but for many years it has been almost impossible to see in a good quality print. I am so happy to be collaborating with Ed Glaser to bring this restored HD version to life and I am incredibly grateful to the Arts & Humanities Innovation Fund for making this all possible.'
Champaign, Illinois-based Film Historian Ed Glaser, who collaborated with Dr Smith on the project, said, 'There have always been obstacles to exhibiting films as complicated as Dünyayı Kurtaran Adam. When I obtained the last remaining 35mm film print in 2016, as glad as I was to be able to preserve it, I was very much afraid that those hurdles would prevent anyone from enjoying it for the foreseeable future. So I'm delighted and extremely grateful that King's College London has lent their support and given so much to make this screening possible. It could never have happened without them, and especially the tireless efforts of Dr Smith.'
The Yunus Emre Institute London said, 'The Yunus Emre Institute are delighted to be collaborating with Dr Iain Robert Smith and King's College London on this exciting event. We look forward to working with them again in the future to help bring classic and contemporary Turkish cinema to audiences in the UK.'
Dr Smith appeared on the BBC Radio 3 programme Free Thinking earlier this week to talk about the film with presenter Matthew Sweet.
In this story