23 February 2022
Idea Factory 2022: People's Choice Awards
Entrepreneurship Institute
We're opening up the judging for this year's Idea Factory to YOU with a People's Choice Award.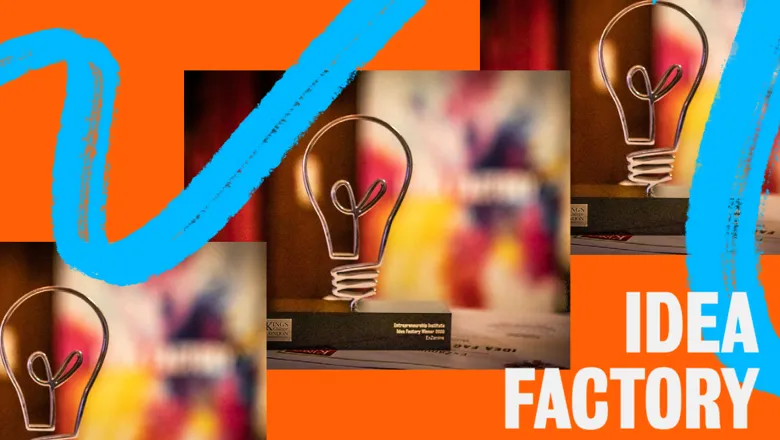 What a year it's been for Idea Factory, the Entrepreneurship Institute's flagship idea generation competition. Each year, we put the call out for the biggest, brightest and best ideas across the university and through a series of workshops, give our contestants the skills they need to make their ideas viable and scalable through entrepreneurial skills. 
This year we received over 50 entries addressing problems across healthcare, education, finance, food, fashion, and the environment. 
In addition to our expert panel of judges, we're turning to our community to nominate their pick for our inaugural People's Choice award! Simply watch our 10 finalists' quick pitches below and cast your vote here. 
The winner of the People's Choice will be announced at the Idea Factory Pitch Off on the 2nd March 2022, and will go on to receive a guaranteed £2000 in funding to make their idea a reality, 12 months of mentoring with our Head of Entrepreneurial Skills and experts-in-residence as well as a potential fast-track to a King's20 Accelerator interview.
Voting closes at 5pm on Wednesday 2nd March 2022. One vote per email address is permitted - duplicate entries will be deleted.
Dehusk
Dehusk is the Philippines' first local producer of an affordable fortified coconut milk drink to lactose-intolerant coffee drinkers, eco- and health-conscious individuals.
- Samuel Antonius Tecuala, Seigfreid Uy, Quan Tan (King's Business School)
EVYN
As a consultation management and meal planning software focusing on food over calorie goals, EVYN helps dietitians run effective consultations with patients, utilising culturally inclusive visual learning and storytelling, thereby providing meaningful & culturally relevant care.
- Olutosin Kirya  (Faculty of Life Sciences and Medicine) 
Future Farming
Farmers are often frustrated by the effort it takes to grow and harvest loose leaf salad. Future farming eliminates the need for human labour. With Future Farming's new solutions farmers will be able spend less time growing and harvesting and allocate a larger percentage of land to more profitable crops.
-  Elliot Smith (Faculty of Natural, Mathematical and Engineering Sciences)
HappyHeart
HappyHeart is a mobile application and service that aims to help people understand and reduce their risk of developing cardiovascular disease (CVD) by demystifying CVD risk factors and assisting people to control modifiable CVD risk factors, such as obesity, in a fun and rewarding way.
- Carl Simela and Chloe Simela (Faculty of Life Sciences and Medicine)
Malcom
Malcom helps businesses achieve their Net Zero goals by providing a cloud-based application enabling sharing of life cycle emission data. Our vision is to create data-rich networks that increase transparency and accountability and can be harnessed by our AI for optimisation of sustainability decisions.
- Alex Durkin and Miao Guo (Faculty of Natural, Mathematical and Engineering Sciences)
Mami
Mami is a mobile application and SMS service to help women living in Nigeria identify breast cancer symptoms early, and promptly connect to appropriate care and support through an accessible, confidential, and convenient platform
- Mercy Ofuya (Faculty of Life Sciences and Medicine)
Reperio
We help doctors diagnose early-stage psychotic disorders with a quick, smartphone–recorded speech task.
- Julianna Olah and Win Lee Edwin Wong (Institute of Psychiatry Psychology & Neuroscience)
Researcher Searcher
'Researcher Searcher is a search-engine that can help users find the right researchers, given any piece of text.
- Gemma Archer and Ben Elsworth (Institute of Psychiatry Psychology & Neuroscience)
Re-sept
Modern, performance-driven haircare brand inspired by ancient principles to address the root of common hair concerns at the scalp.
- Shikha Doorvashi Ramjutan (Faculty of Life Sciences and Medicine)
Sistren
We empower Black women to enhance their quality of life by building community and friendship with local and like-minded women.
- Olivia Hylton-Pennant (staff member in Social Mobility and Student Success)