20 February 2023
Idea Factory 2023: People's Choice Awards
Entrepreneurship Institute
We're opening up the judging for this year's Idea Factory to YOU with a People's Choice Award.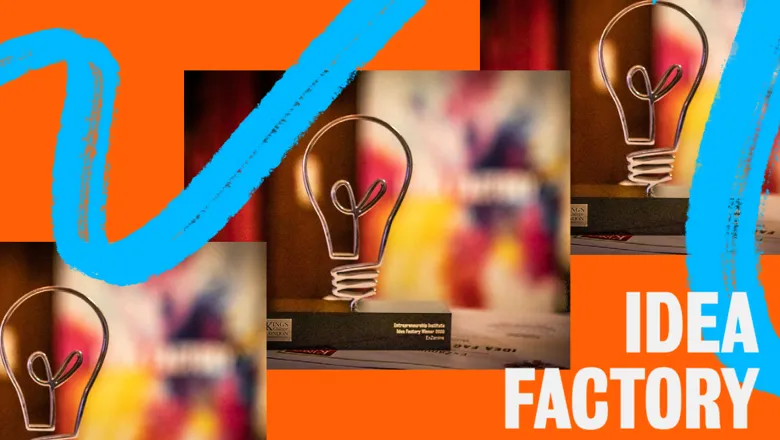 What a year it's been for Idea Factory, the Entrepreneurship Institute's flagship idea generation competition. Each year, we put the call out for the biggest, brightest and best ideas across the university and through a series of workshops, give our contestants the skills they need to make their ideas viable and scalable through entrepreneurial skills. 
This year we received 39 entries addressing problems across healthcare, education, food and community. 
In addition to our expert panel of judges, we're turning to our community to nominate their pick for our inaugural People's Choice award! Simply watch our 10 finalists' quick pitches below and cast your vote for your favourite.
The winner of the People's Choice will be announced at the Idea Factory Pitch Off on the 1st March 2023, and will go on to receive a guaranteed £2,000 in funding to make their idea a reality, 12 months of mentoring with our Head of Entrepreneurial Skills and experts-in-residence.
Voting closes at 17:00 on Wednesday 1st March 2023. Only one vote per email address is permitted - duplicate entries will be deleted.
ARENA
ARENA aims to gamify sports entirely using unique matchmaking frameworks, and allowing for the exploration of new sports on an unprecedented level. ARENA will revolutionise the booking system through which all recreational sports-related bookings are made.
- Yassin Ali, Ayani Mohamud (Faculty of Social Science & Public Policy)
BLOQl
Making social media a more authentic experience by showing different opinions and performing user validation.
- Rishi Sharma, Jamie Roden, Philip Berry, Saurav Sharma, Joshua DeCoteau, Carter Aimers (Faculty of Natural, Engineering & Mathematical Sciences)
Codeflow
Many people find traditional programming education to be difficult, expensive or time-consuming. Codeflow is an AI-powered platform which aims to make learning code more accessible by providing effective learning resources and beginner-friendly learning paths.
- Wojciech Bandzerewicz (Faculty of Natural, Engineering & Mathematical Sciences)
Dastarkhãn
Get a taste of home delivered right to your door with our South Asian inspired meal kits, carefully curated to bring you authentic flavours and traditional recipes.
- Maneeha Naveed (Institute of Psychiatry Psychology & Neuroscience)
Fitra Health
A digital therapeutic offering interventions that combine evidence-based therapy with faith-based approaches to provide culturally sensitive and inclusive mental healthcare for Muslim communities. With a mission to improve access to psychiatric care for 1.9 billion Muslims, we aim to make a meaningful impact on the mental health of this community.
- Nawal Yousaf (Faculty of Life Sciences & Medicine)
Heard
Improving healthcare delivery, specifically in the presence of language barriers. Inefficiency when communicating in healthcare disrupts patient care and can be life-threatening. Language is what connects us - let's hear each other. 
- Rumeesa Rais (King's Business School and Faculty of Life Sciences & Medicine)
LaYas Life
We encourage women aged 35 to 65 to engage in healthy lifestyle behaviours that are known to promote healthy aging by using gamification techniques - such as rewards, badges, leaderboards and challenges - on our health tracking app.
- Nasreen Hasan (Institute of Psychiatry Psychology & Neuroscience)
MDB Therapy
Our non-invasive self-acupuncture therapy platform provides a viable solution to improving accessibility and convenience for complementary medicine to bridge the ever-growing treatment gap for much mental health care, relieving strain on patients, physicians, and psychotherapists.
- Jenny Huang (Institute of Psychiatry Psychology & Neuroscience)
NanaUp
When women are allowed to study and work, society itself grows. NanaUp will offer an accessible and reliable childcare service to give women the freedom to enter or return to the workforce.
- Andrea Barsallo Marin (King's Business School)
Simplicate
Simplicate is a digital platform, which allows start-ups to get high-quality, lawyer-tested standard but critically needed documents in a short time and at a reasonable price.
- Katia Lobysheva, Maxim Kazantsev (The Dickson Poon School of Law)