13 February 2018
Idea Factory finalists announced
The Entrepreneurship Institute is pleased to announce the finalists of Idea Factory 2017-2018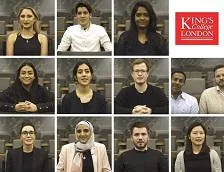 Idea Factory finalists
The Entrepreneurship Institute is pleased to announce the finalists of Idea Factory 2017-2018.
King's flagship idea generation competition aims to find the best high-potential ideas from across the university. Awards are given in 4 categories, the Moonshot award for the idea most likely to change the world, the Changemaker award for an idea with big social impact, the Industry Intrapreneur for an idea to disrupt an existing industry, and the Storyteller award for the best pitch of the day.
Finalists were selected from a shortlist of 20 who attended the Idea Factory bootcamp. 

At the bootcamp finalists received mentorship and feedback from King's20 entrepreneurs and staff and alumni from the London Business School before pitching to a panel of judges; Professor Stefan Allesch-Taylor CBE, serial entrepreneur and philanthropist, Cathy White, Founder & Director of CEW Communications and Director at GeekGirl Meetup UK, and Jeff Skinner, Executive Director of the Institute of Innovation and Entrepreneurship Innovation, London Business School.
The winners will be announced at the House of Lords on 20 February and awarded a share of £6000 prize money and support package to help start and scale their ventures.
 Jeremy Shorter, Learning Programme Manager, Entrepreneurship Institute said:
 "Thank you to everyone who applied this year and congratulations to the finalists. The entries are a brilliant showcase of the entrepreneurial mindset of King's students, staff and alumni and we were blown away by the standard of this years applicants. We were particularly impressed by the finalists ability to receive and act on the mentors feedback – the transformation from ideas to well polished pitches was phenomenal. We are really excited to work with the group on bringing their ideas to reality."
In alphabetical order the 11 finalists are:
Aeysha Ahmed, undergraduate, Global Health and Social Medicine, Social Science and Public Policy for her idea for a premium halal nail product for Muslim women.
Muhammad Altalib (team lead), undergraduate, Business Management, King's Business School, for his idea to use sensors to monitor soil quality in Africa to improve yield.
David Boothey (team lead) + Sam de Silva, King's alumni for their idea to improve air pollution in cities.
Leonardo Jones, undergraduate medical students, Life Sciences and Medicine for his idea to use bacteria to break down plastic pollution.
Niki Manoledaki, undergraduate, International Relations, Social Science & Public Policy for her idea for an app to organise donated items in refugee camps.
Alicia Carolina Beylan Navarrete, MSci Robotics and Intelligent Systems, Natural and Mathematical Sciences for her idea for a subscription box for baking.
Arunita Roy, undergraduate, Computer Science with Management, Natural and Mathematical Sciences for her idea for a Netflix for online gaming.
Sabrina Shahawi (team lead), postgraduate, Public Policy and Management King's Business School for her idea to improve mental health access at universities.
Dr Rachel Thomas (team lead), MSc, Institute of Psychiatry, Psychology and Neurosciencefor her idea to help people manage stress.
Marius-Nicolae Toc, undergraduate, Computer Science with Management, Natural and Mathematical Sciences for his idea to use an app and smart technology to improve the lives of deaf people.
Kathie Wong (team lead), MD (Res), Life Sciences and Medicine for her idea for a blood test tracking app for patients with prostate cancer.