22 November 2021
In memory of Professor John Hermon-Taylor
It is with great sadness that we announce the death of John Hermon-Taylor on 16 October 2021.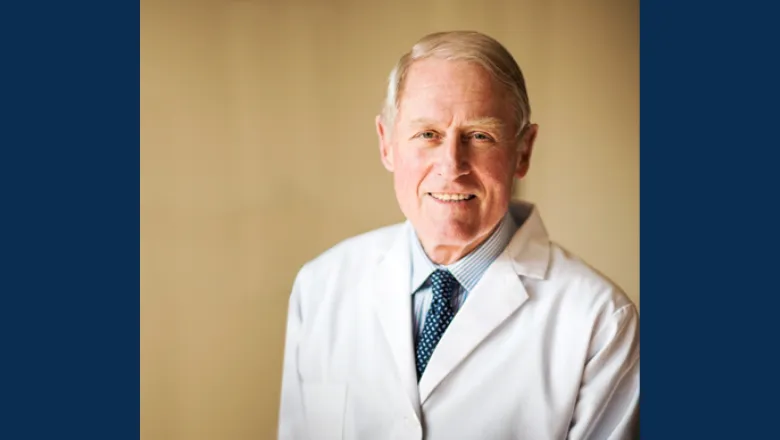 Professor John Hermon-Taylor was an internationally renowned surgeon and molecular scientist, whose expertise and dedication was instrumental in creating a vaccine against Crohn's disease. He joined King's as a Visiting Professor for gastrointestinal research in 2008.
After graduating from Cambridge University as a doctor in 1960, he obtained a Fellowship of the Royal College of Surgeons in 1963, winning the prestigious Hallett Prize, awarded to the highest scoring candidate.
In 1976, Professor Hermon-Taylor became the Chair of Surgery at St. George's Hospital Medical School where he would begin the work that would define his career, as he focused on treating and caring for people with Crohn's disease.
At St George's he was appointed Team Leader for a group of researchers investigating the cause of Crohn's disease. His research eventually focused on whether the pathogenic bacterium Mycobacterium avium subspecies paratuberculosis (MAP) was the primary cause of Crohn's.
He would go on to design a therapeutic vaccine against MAP to treat Crohn's disease, beginning in 1997 and continuing for the rest of his life.
He spent the next 10 years developing the vaccine and its ability to target MAP, leading a team of scientists at King's Department of Nutritional Sciences and collaborating with Professor Tim Bull at St George's and Professor Dame Sarah Gilbert at Oxford University.
Though he retired as a surgeon in 2002, Professor Hermon-Taylor continued to focus on research, motivated by his desire to help patients outside the hospital.
Fortunately, a few weeks before his passing, he heard the wonderful news that the first patient with Crohn's disease had received his vaccine in a landmark clinical trial being undertaken at Guy's and St. Thomas' Hospitals. Details of the trial can be found here.
Many of his former patients and colleagues have paid tribute to his compassion, kindness and generosity of spirit, along with his unwavering dedication to helping his patients. His warmth and sense of humour was extended to anyone he met, and his love of life was infectious as he sought to make every day an adventure.
Dr Amy Hermon-Taylor, his daughter, would like to thank everybody who has kindly offered words of support to the family during this difficult time.
A memorial for Professor John Hermon-Taylor will be held at St. Mary's Church on Friday 3 December at 12 noon, which is open to all. In lieu of flowers, his family would appreciate donations in support of his research legacy. Details can be found here.