03 December 2019
In Memory of Professor Sir Michael Howard
Obituary for Sir Michael Howard, distinguished historian and founder of King's Department of War Studies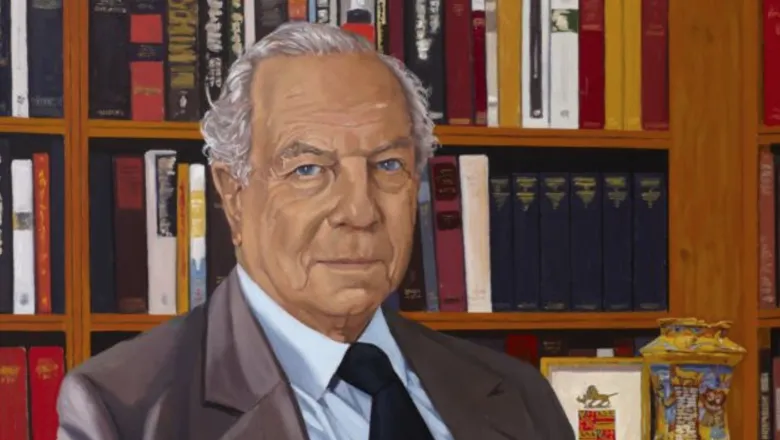 Painting of Sir Michael Howard
King's College London regrets to announce that Sir Michael Howard, the doyen of military historians and founder of the Department of War Studies, died on 30 November 2019 one day after his 97th birthday.
Like so many of his generation, Michael Howard's university education was interrupted by the Second World War. He was commissioned into the army and served in the Italian campaign, where he was awarded the Military Cross for bravery in combat. After the war, he graduated with a degree in history from Oxford University and wrote the official history of his regiment, The Coldstream Guards.  
In 1947 Michael was appointed lecturer in history at King's College London where he wrote his ground-breaking study of The Franco-Prussian War. At King's, he pioneered a new vision of military history, one that analysed war in all its complexity, and which examined how war affected the broader patterns of social and political change. As someone who witnessed war's brutality, he believed that scholars who engaged in its humane study had a duty to contribute to public debate about international politics and armed force. In 1962, that moral conviction led him to establish the Department of War Studies, which to this day continues his quest to understand war without endorsing it.
In 1968 Michael left King's for Oxford University to become Chichele Chair in the History of War and then Regius Professor of Modern History. In 1993 he retired as Robert A. Lovett Professor of Military and Naval History at Yale University.
Even in retirement, he remained active at King's, always ready to advise young scholars in the field and to speak at undergraduate events. In 2014 the Sir Michael Howard Centre for the History of War was named in his honour.
As a soldier-scholar, his contribution to the study of war and strategic studies was truly immeasurable and his legacy will remain with King's in perpetuity.