09 November 2020
In memory of Rabbi Lord Jonathan Sacks FKC
We are saddened to hear the news that Rabbi Lord Jonathan Sacks FKC, PhD alumnus and Emeritus Professor of Law, Ethics and the Bible, passed away on Saturday 7 November, following a diagnosis with cancer.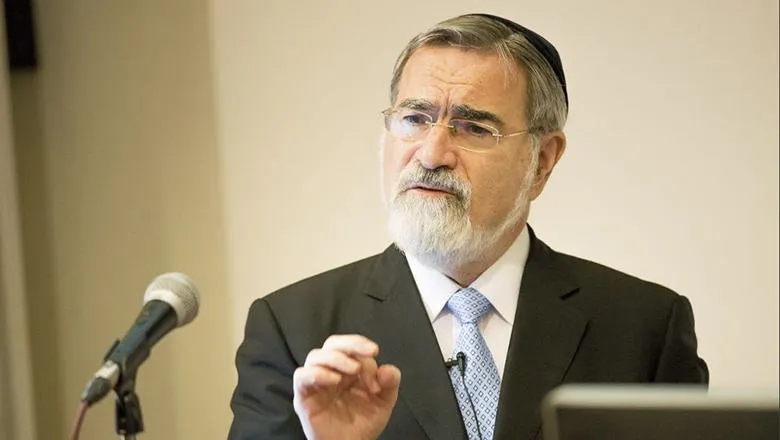 Rabbi Lord Sacks
Rabbi Sacks was not only a distinguished academic but an active member of King's community and his contributions were many, and his influence reached beyond geographical boundaries. Central to his message was appreciation and respect of all faiths, with an emphasis that recognizing the values of each is the only path to effectively combat the global rise of violence and terrorism.
King's College London President & Principal Professor Sir Edward Byrne said. 'I was very saddened to hear this news. Rabbi Lord Sacks was a global religious leader, philosopher, author and moral voice for our time. He was a greatly admired intellectual and public figure, known around the world and made a significant contribution to research and to teaching, with our students learning a great deal from his extensive knowledge and experience. I had the privilege of meeting him and hear him speak on a number of occasions. He was a great man and we were honoured to have him as a member of the King's community. He will be long remembered.'
A Visiting Professor at King's since the 1990s, Rabbi Sacks' connection to King's date back to the 1970s and he was awarded a PhD in 1981. As a Visiting Professor he contributed to teaching on the Associate of King's College (AKC) programme. He also took part in the Trialogue on 'Faith in Public Life' in March 2004 with Archbishop Desmond Tutu and the then-Archbishop of Canterbury, Rowan Williams, as part of the university's 175th anniversary celebrations.
Rabbi Sacks served as Chief Rabbi of the United Hebrew Congregations of the Commonwealth between September 1991 and September 2013, only the sixth incumbent since the role was formalized in 1845. Following his retirement as Chief Rabbi, he was appointed as Professor of Law, Ethics and the Bible at King's, and he contributed to undergraduate and MA modules in the areas of Theology, Biblical Studies, Jewish Studies, and Abrahamic Religions. A prolific writer, and media commentator he regularly contributed to radio and TV programmes such as BBC Radio 4's Thought for the Day.  After his retirement from King's, he continued his close contact with the university.
The Rev'd Tim Ditchfield, Acting Dean of King's College London said, 'His death is a great loss to the Jewish community and the wider world. He was a kind and gracious man who has given much to King's. Our prayers are with his family and friends that they might know comfort. May his memory be a blessing.'
Rabbi Sacks received many awards and honours including the Templeton Prize in recognition of his lifelong work bringing spiritual insight to the public conversation through mass media, popular lectures and more than two dozen books, much of which he did at King's. He also received the Jerusalem Prize in 1995 for his contribution to diaspora Jewish life and The Ladislaus Laszt Ecumenical and Social Concern Award from Ben Gurion University in Israel in 2011. He was knighted in 2005 and made a Life Peer, taking his seat in the House of Lords in October 2009.
Professor Sir Rick Trainor, Rector of Exeter College, Oxford and former Principal of King's College London said, 'I am very sad to receive this news. Rabbi Jonathan was a great man, transcending so many of the controversies of our time, and, for many years, a great friend of King's. I hugely enjoyed my meetings and other encounters with him.'
The Revd Canon Professor Richard A. Burridge, former Dean of King's College London and Visiting Professor of Biblical Interpretation said, 'I was very shocked and sorry to hear after the end of Shabbat at sunset on Saturday of the death of Rabbi Sacks earlier that morning. He was a close friend and colleague over three decades. It was a privilege for me to appoint him to our team of biblical scholars in 2013, and I always enjoyed the classes we shared together. I was deeply moved when he asked me to contribute to his research for Not in God's Name, and then to host and edit for him the Templeton Symposium on Confronting Religious Violence. But most of all I will miss his friendship, his sharp intellect in our debates, and his wit and humour with so many stories over conversations and meals. The world has lost a great leader for reconciliation at a time when we most need him. alav ha-shalom – peace be upon him.'
Our thoughts and sympathies are with his family and those across King's who worked closely with him, and who knew him as a friend as well as a colleague.
We hope to come together as a community and celebrate his life at a memorial event in due course.