15 January 2018
Informatics lecturer wins Globecom'17 award
Department of Informatics lecturer wins Globecom'17 best paper award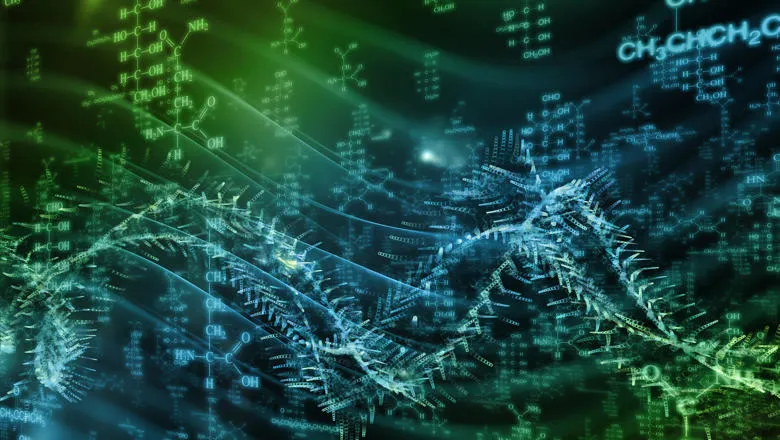 Chemical models
A paper written by Dr Yansha Deng, a Lecturer in the Department of Informatics, King's College London, has won the best paper award at the IEEE Globecom 2017 conference in Singapore in December. The paper was produced in collaboration with Dr Massimiliano Pierobon from University of Nebraska Lincoln and Professot Arumugam Nallanathan from Queen Mary University of London.
Yansha explained that the paper, entitled 'A Microfluidic Feed Forward Loop Pulse Generator for Molecular Communication', 'designed a microfluidic pulse generator as a molecular communication component able to output a predefined pulse-shaped molecular concentration upon a triggering input.
'The chemical processes at the basis of this pulse generator are inspired by how cells generate pulse-shaped molecular signals in biology. The slow-speed, unreliability, and non-scalability of these processes in cells are overcome with a microfluidic-based implementation based on standard reproducible components with well-defined design parameters. The methodology presented in this work will help in the design of additional molecular communication components inspired by biochemical processes and based on microfluidic systems.'
Globecom is one of the biggest and most prestigious conferences in the telecom field which features the attendance of thousands of leading scientists, researchers and industry practitioners from all around the world. The selection of this paper from all those submitted is a great distinction and recognition of the high profile research done in the Department of Informatics.
For further information, please contact yansha.deng@kcl.ac.uk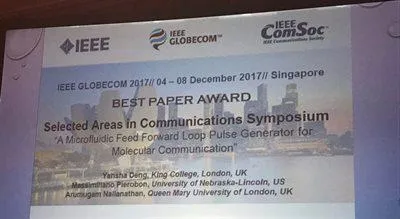 Best paper award announcement