31 May 2018
Informatics students on Code First: Girls Ones to Watch list
Two Informatics students have been named on the Code First: Girls Ones to Watch list. Code First: Girls explains that the people included on the list are 'the most ambitious and exciting young women who are developing their careers in tech'. The scheme aims to demonstrate the career choices of women under 30 and in doing so, inspire others to reach for similar goals. We asked Alicia Beylan, MSci Robotics & Intelligent Systems, and Fatima Vayani, PhD student, what five questions they would most like to put to the other.
Code
Fatima, why do you think these kind of lists are important?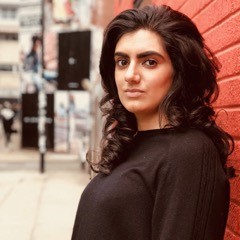 I think that shining the spotlight on underrepresented groups in any community is the first step to inspiring change. It is also a huge opportunity for those of us on the list to be recognised for our potential!
What do you think CFGOTW list represents? 
I think it represents passion and support. None of the amazing women would be where they are today without their drive and work ethic, but they would also not be here without the support of their peers, friends and families. Being a CFGOTW is another family we are now all blessed to be members of!
What things, besides your research, do you do?
For the past couple of years, I have been involved in organising diversity initiatives at King's, including #BMEWiSTEM, highlighting the work of BME women in STEM.
I am also an active member of the bioinformatics research community and founded the Student Conference on Mathematical Foundations of Bioinformatics, which I am helping to organise for the third time this year! 
What were your first thoughts when you discovered you were part of the list?
I was, and am still, surprised but extremely grateful. I would like to thank Dr. Liz Black (Informatics) and Lucy Ward (NMS) for nominating me, and for generally always being there to support me.
What advice would you give to someone that is aspiring to be like someone from the list?
Pursue what you love despite how unrealistic, weird or difficult it may seem. Everyone has their niche and it's all about finding yours!
Alicia, congratulations again! How do you feel about being on the CFGOTW list?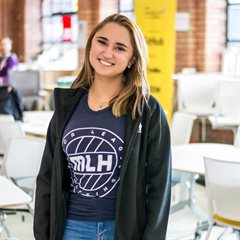 I'm super happy and excited. It's great to be part of a list with so many other amazing women doing fantastic things in tech and entrepreneurship. I really can't wait to get to meet all these fantastic ladies and just exchange our ideas!
What do you do/have you done outside of your undergraduate studies?
I've been leading KCL Tech Society for the past two years, organising many events such as meet ups and hackathons. I'm a mentor in Rails Girls London, where we teach women how to code from scratch. I'm a Major League Hacking coach where we go to student hackathons during the weekend to provide support and mentorship. And I'm member of the All Party Parliamentary Group on AI. 
What do you feel is the one aspect of your character that you have developed the most through your extra-curricular work?
If you ask the former KCL Tech people how I was when I joined, they would say that I was super shy and you would just not believe it. Being part of the tech community for the past 3+ years has helped me massively in improving my communication skills! Now I even give talks and I'm getting better at public speaking, a thing that before would terrify me.
What is the coolest thing you have seen/person you have been inspired by in recent years?
I feel inspired every single day by many people. From seeing the ladies that joined KCL Tech three years ago and see in what they have become today makes me super proud. Talking with ladies that are already in industry, many of whom didn't study computer science and that later changed careers, makes me feel so inspired, and makes me think is never too late to learn a new skill or take a risk on new opportunities. If you look at the tech community in the UK, you will feel inspired every single day. Just to name a few people that make me feel super inspired: Jessica Rose, Jess Wade, Pauline Narvas, Maria Vrabie, Eleanor Harding, Kriselda Rabino…the list goes on!
What are your plans for the future?
I will be joining Deliveroo as a Software Engineer from September! And I will also start my own venture that, of course, mixes food with tech! :)