29 July 2015
Institutional power, creative human capital and community engagement lie at heart of creative partnerships
Power relationships, understanding the economic and socio-cultural value of creative human capital and engaging with local communities are the basis for successful creative partnerships, according to a new report published today by work led by CMCI's Dr Roberta Comunian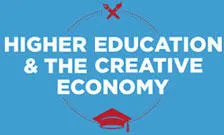 Higher Education & The Creative Economy

Power relationships, understanding the economic and socio-cultural value of creative human capital and engaging with local communities are the basis for successful creative partnerships, according to a new report published today by academics at King's College London.
Beyond the creative campus: reflections on the evolving relationship between higher education and the creative economy is the result of two year's research, charting the under-explored territory of the relation between universities and the creative economy, bringing together views and experiences form academics, creative and cultural practitioners and policy makers.
CMCI lecturer Dr Roberta Comunian, highlighted that while the report is not an academic or policy document it acts 'as a 'critical friend' for policy organisations, academics, creative practitioners and cultural organisations to help them navigate the issues and challenges of working beyond the campus as well making the most of the opportunities that this offers'.
Dr Comunian worked with Dr Abigail Gilmore (University of Manchester) to examine outcomes of seminars and international visits as well as the results from the "Higher Education & the Creative Economy" conference which took place at King's College London last June. She considers the report to be a helpful guide for academics and practitioners in the arts to familiarize themselves with terminology and dynamics specific to the arts sector. 
The report emphasizes that importance of pushing the agenda forward and making sure the creative economy remains viable and sustainable for all involved. The report has received the praises of academic and cultural leaders.
Deborah Bull, Director of Culture at King's College London highlights how it "strikes a welcome balance between critical reflection and practical guide, and will encourage a deeper understanding of why - and how - the cultural and higher education sectors interact and of the different types of value these collaborations can deliver".
In this story