19 April 2018
International academics awarded prestigious British Academy Visiting Fellowship to work at King's
Four international academics will spend six months at King's College London, having been awarded prestigious funding from the British Academy.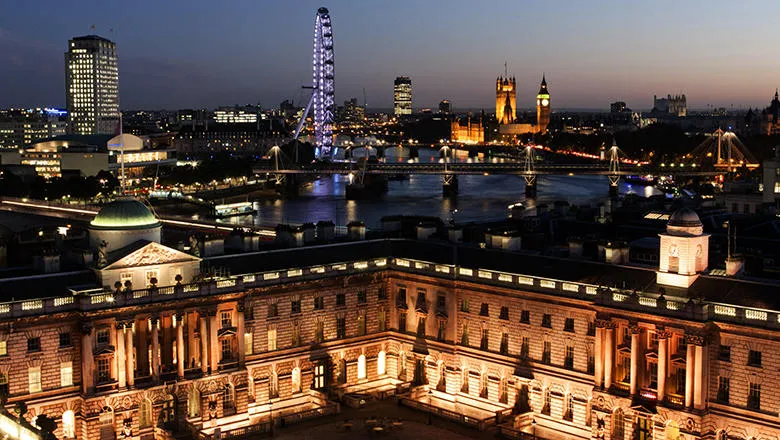 Bush House
Academics from Cyprus, India, Canada and the United States awarded Visiting Fellowships will work on a variety of topics, from social diversity and redistribution policies to the politics of space at the margins of the Indian city.
British Academy Visiting Fellowships provide outstanding academics based in any country overseas – and active at any career stage – with the opportunity to work at a UK higher education or other research institution of their choice for up to six months.
The Visiting Fellows come from 34 different countries, and from every continent of the world. The 89 Visiting Fellowships will link overseas academics with 43 different UK institutions, ranging from Russell Group institutions to post-1992 universities.
The Visiting Fellowships are supported by the Government's Rutherford Fund, which aims to help maintain the UK's position as a world leader in science and research by attracting the most talented researchers to the UK. Launched in July 2017, the Fund includes more than £100million over the next four years to support the provision of fellowships for international research talent.
Professor Ash Amin, British Academy Foreign Secretary, said: 'We are delighted to announce this cohort of British Academy Visiting Fellows. The new Visiting Fellowships scheme is timely, ambitious and exciting. By funding 89 of the world's most talented academics, the British Academy aims to build new – and enhance existing – international research links in the humanities and social sciences. In this way, the scheme will yield new insights and understanding for culture, policy and research agendas both at home and abroad.
'The programme attracted more than 750 applications worldwide, demonstrating that the UK remains an attractive and competitive place to carry out research. We wish the Visiting Fellows every success with their projects.'
This year the British Academy has awarded 89 Visiting Fellowships of up to £33,000, bringing the combined total to £2.1million.
Notes to editors
For more information please contact the Public Relations Department at King's College London on +44 (0)207 848 3202 or pr@kcl.ac.uk.
For more information about King's please visit the King's in brief web pages.
For more information about the British Academy, visit www.britishacademy.ac.uk.
World-changing ideas. Life-changing impact: https://spotlight.kcl.ac.uk/