02 April 2019
International intelligence - who's watching?
King's represents UK in collaboration with France and Germany to build international oversight of intelligence agencies.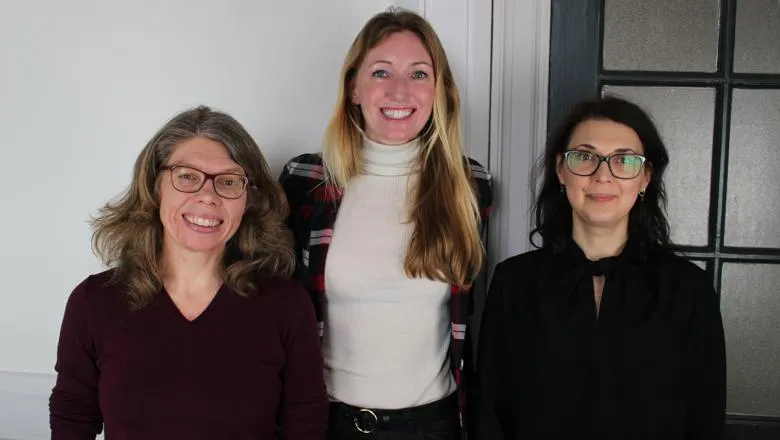 Dr Leonie Ansems de Vries, Dr Emma McCluskey and Professor Claudia Aradau
The digitisation of everyday life since the 1990s has transformed the way in which intelligence agencies operate.
Today, digital traces left by almost every transaction and mundane action are stored and collected for commercial or security purposes. In the face of this data collection and sharing, as well as the transnational expansion of intelligence networks, are fundamental principles such as the rule of law and respect for human rights at risk?
GUARDINT is a new collaborative project between partners based at King's College London, Sciences Po Paris, WZB (Berlin Social Science Centre) and Stiftung Neue Verantwortung, and funded under the Open Research Area. The project's aim is to bridge the gap between increasingly transnational surveillance practices and national oversight mechanisms. Intelligence networks and digital data access continues to expand, GUARDINT challenges the current process as being outdated and inefficient.
The King's research team is made up of Professor Claudia Aradau (Principal Investigator), Dr Leonie Ansems de Vries (Co-Investigator) and Dr Emma McCluskey (Postdoctoral Research Associate).
Professor Claudia Aradau commented: "Digital technologies have made surveillance both more pervasive but also more invisible. GUARDINT aims to address and redress the gap between increasingly transnational surveillance practices and national oversight mechanisms. The project proposes a novel approach to oversight, viewing it as a necessary aspect of democratic life and an integral component of transnational cooperation."
GUARDINT will build empirical and conceptual tools to shed light on the limitations and potential of oversight mechanisms. It theorises intelligence oversight through an International Political Sociology (IPS) approach to understand the concrete practices and the formal and informal roles of oversight.
Using this IPS approach, the project examines intelligence oversight in a threefold way: as a democratic mechanism, as socio-technical networks, and as an emerging transnational practice. It compares the efficiency and legitimacy of oversight bodies in different European countries and examines the possibilities and challenges for oversight bodies to operate at a transnational scale.  
Follow the King's Department of War Studies communications channels for future updates.