02 February 2018
Interview: Entrepreneurship Institute Interns
We recently sat down with Leila Burridge and Luana Moraes, to find out more about their internships at the Entrepreneurial Institute and about their time at King's Business School.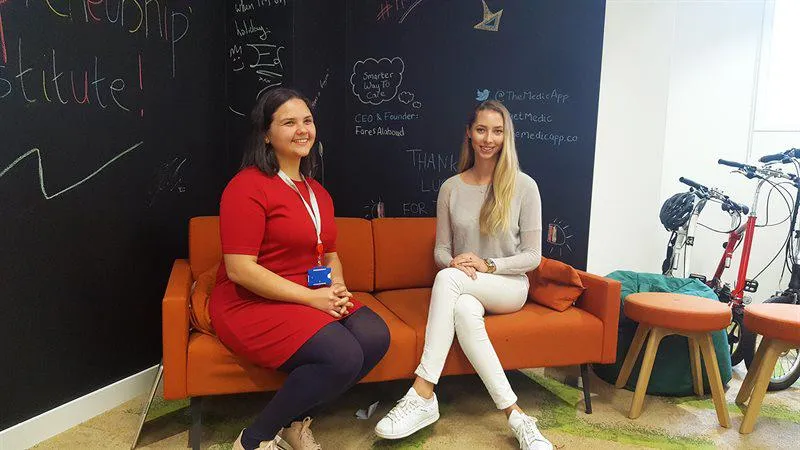 Interview: Entrepreneurship Institute Interns
We sat down with Leila Burridge and Luana Moraes to talk to them about their internships at the Entrepreneurship Institute and their time at King's Business School. Leila is an undergraduate student who wishes to start her own start-up in the future and Luana Moraes is a postgraduate student from Brazil.
The Entrepreneurship Institute is currently looking for Summer Interns, If you are interested in applying find out more about the Institute's current opportunities.
Why did you apply for this internship?
Leila
I was very interested in working with a start-up and this internship gives me the opportunity to work with many different ones. Therefore, I knew I would get a diverse experience. Working with the Accelerator Programme gives a whole new perspective on working with the start-up hub here in London. It's a good opportunity to get day-to-day experience and insight into the life of an entrepreneur. I wanted a lot of tangible, practical knowledge and know-how on running a business in London and to become more familiar with the processes that a lot of start-ups have in common. 
Luana
I studied Public Policy and Management which people may not think is related to entrepreneurship, however, I see one of the biggest problems in the government sector is lack of innovation. I am interested in how to use innovation and new ideas in the public sector.  
What is the most important lesson you've learned so far?
Leila
I wish to become an entrepreneur myself and I've learnt the importance of having a passion for your work as well as perseverance. You have to give it your all, you need real dedication and stick to it, even if it means you have to work on your business plan for a whole year, before even starting your business.
Luana
I have learnt about how the Public Sector could benefit from adopting the business habits of start-ups. Working in a start-up, you must look outside the box and move quickly. It's also important to reach out to your market and ask your audience what they want. I think the Public Sector should look at their business in a similar way as these ventures.
Can you tell us about your activities so far?
Leila
So far, I've worked for the Entrepreneurial Institute itself. I've worked on the branding of a series of workshops, being involved with everything; from content, speakers, flyers to the dates of the workshops. Working on the 'demo day' was great as I was able to connect with 120 investors. Soon I will be working with different start-ups focusing on market research and a Kickstarter campaign. 
Luana
At the moment I am finishing off a financial model and today I am researching the history of advertising that will be made into a video by the entrepreneurial institute. I will then be working with multiple start-ups from different sectors.
How does this internship fit in with your studies? 
Leila
I finished my second year of Business Management which is a very broad course. I have taken a lot of law based classes, therefore my views will be completely different from a student focusing on banking, so the course is very diverse. I think it's great that you get such well-rounded business knowledge, but it's important to focus your classes on the direction you wish to follow. I'm not sure which type of start-up I would like to be part of in the future, and that is not the sort of entrepreneur I see myself as. Some entrepreneurs have one specific passion, but I am someone who seeks out different opportunities. 
Luana
I have loved being able to be part of all these extra activities aside from my studies. This internship has given me the opportunity to gain hands-on experience and real-world knowledge alongside my studies. 
What can you tell about studying at King's College London?
Leila
Something different about King's College London is that the campuses are stretched out over the city, so you do feel like you're fast-tracked into adulthood and working life. I love the fast pace and all the opportunities you get by studying in London. 
Luana
King's Business School and London in general are so multicultural, it's great to be part of so many different discussions and perspectives from people from all around the world. London provides cultural intelligence and being based in the centre of London is amazing, I can see the Big Ben and the Parliament on my way to class and I feel so lucky.
What advice would you give new students coming to London?
Leila
There is so much you can learn from London before you even get here. Do some research online by looking at University blogs and magazines, these will also help you with the practical things such as housing, and setting up a bank account. Get ready for the ride!
Luana
My advice for a Postgraduate student would be not to get too overwhelmed. Don't lock yourself in the library as there is a whole world outside and take opportunities that give you hands-on experience.
How important is an internship like this?
Leila
It's been a great working environment that is designed to encourage creativity and to develop new skills. I had no prior graphic design experience, yet I was given freedom to work in this area, because they trusted me. I was able to be creative. This environment gave me room to develop so many diverse skills that I may not have had the chance to explore in a more rigid environment. 
Luana
To complete your Master's, you have to stop your career for a while, but here I gained so much hands-on experience. It's been great to have the opportunity to gain diverse professional experience and study at the same time. 
Thank you to Leila and Luana for taking their time to talk to us. Visit the Entrepreneurial Institute webpage to learn more about their work and how to get involved.