01 September 2015
Interview with Cultural Challenge winner Isabel Feeney
Interview with King's English student and Cultural Challenge winner Isabel Feeney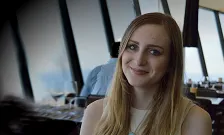 Isabel Feeney
The Cultural Challenge is a unique competition run across the university where all students are invited to submit ideas to respond to or answer a key challenge facing the cultural sector in the UK. One year on from the 2014/15 competition, we've caught up with Isabel Feeney, an English undergraduate at King's and one of four winners of last year's challenge.
Isabel, can you let us know a little about your background, and about what you studied at King's and why?
I grew up in Halesowen, which is a town in the Black Country. I study English at King's, mostly because I've always loved to read. I also like how broad the subject can be and how easily you branch out to other subjects like history, or politics or even law.
I understand you've been working with the Royal Shakespeare Company (RSC). How did the job come about and what have you been up to with them?

I was offered an internship as part of the King's Cultural Challenge in 2014. I particularly wanted to work with the RSC as I love theatre and the company, which was quite local to me growing up. I started my internship last August and my role was to evaluate the Stratford-on-Sea programme, as well as assist with the running of the events. It was an opportunity to learn about the objectives of Stratford-on-Sea and what is involved in the running of such an event, so I could then research possible developments. This summer, a stage has been added outside the RSC building, to house performances for Stratford-on-Sea, my project has been to create an activity for the stage so children can interact with the stage and create their own plays.
What was it like being part of the King's Cultural Challenge?
Being part of the Cultural Challenge was quite surreal for me, in terms of the opportunities it opened up for me. I learned a lot throughout the process, about developing ideas and pitches and also a lot about public speaking. It was great to be a part of the discussion about cultural institutions and their audiences. The best part was obviously then getting to work for the RSC.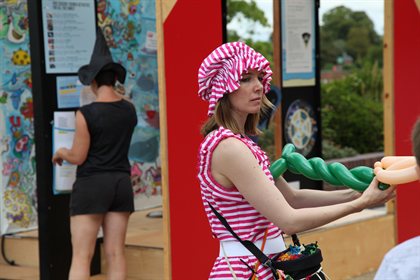 Can you tell me a little about the Stratford-on Sea-festival and the work you've done?
I developed an activity called 'The Fortune's Wheel', where you have to spin the wheel, with each panel referencing a different Shakespearean play. It's aimed at a variety of age groups, so it has two challenges, one asks them to respond to a scenario (like 'you been stranded on a desert island. How would you survive?') or to create a play based on a word (like 'battle'), so the activity is as structured as audiences want to make it. It will also be part of the stage structure throughout the school holidays.
Stratford-on-Sea itself is about creating an atmosphere around the RSC grounds during the summer, with free drop-in entertainment and extra activity taking place on the Sundays, when there aren't any plays being performed. The name itself is a local nickname for Stratford. Being landlocked, people visit Stratford to be by the river and use the gardens as a kind of beach. The event is very much aimed at the community and families especially, encouraging them to enjoy the theatre and its grounds in the summer months.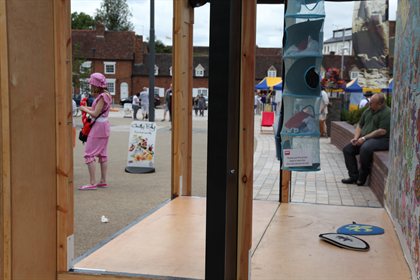 What do you think are the main barriers to engaging with culture?
In terms of barriers to culture, for young people I don't think there's one general explanation. There's still that age old problem of perception, that cultural institutions are very traditional or very expensive. In fact, institutions like the RSC are increasingly progressive and try to be as accessible as possible, it's just about making more young people aware of this. I also think that the exam approach to a lot of creative subjects at school dampens passion for the subjects, it becomes more about passing the test than appreciating what you're learning. But alongside that are more practical reasons like your geographic location and what your local cultural offerings are. It's just a big mixture of things. I would never say young people don't want to engage in culture at all, but there needs to be more interaction with and exposure to different cultural institutions for young people from all backgrounds and from across the whole country.
Do you think more can be done with children to help foster an appreciation for Shakespeare and other cultural icons earlier on?
The RSC's Education team do a lot of work with schools and students of all ages. They use workshops and events to encourage a more active approach to teaching Shakespeare, so students can experience the plays rather than just learn them. Similarly the Events and Exhibitions department focus on providing a good first impression of Shakespeare and the RSC for young children in their work. Ultimately our first impression of any cultural icon, national or global, should be in the way that it was intended to be experienced, because that's how you can really understand it and appreciate it. Your first experience of Shakespeare shouldn't be reading it in a book in class.
What have you learnt with the RSC? Was it different to what you were expecting?
I've genuinely learned so much with the RSC, from general skills like researching and developing business ideas to understanding more about the cultural sector. I didn't expect to be given so much creative freedom and responsibility in my internship and I'm so happy to be able to complete my internship with a finished product.

What's next for you? Do you want to continue working in the cultural sector?
Well first I need to focus on finishing my degree! But the cultural sector would be a really interesting sector to work in because it's challenging and varied. My internship showed me just how many options there are within the industry, jobs I'd never even thought of before.
Finally, what's your favourite Shakespeare work and why?
My favourite play is Macbeth, a classic and for good reason. It's not particularly cheerful but the characters are so interesting and the atmosphere of the play is eerie and mysterious, which I love. I saw the Michael Boyd production at the RSC in 2011 and I was hooked.
Information on the Cultural Challenge, can be found here.
Photographs kindly provided by the Royal Shakespeare Company (Credit: Laura Keating © RSC).