07 August 2018
Interview with Ria Walia: student, intern and co-founder of XTRA.art
We recently caught up with Ria Walia, a Management & Finance and Mathematics student who just completed her first year of studies and is currently a summer intern at the Entrepreneurship Institute. Ria also has her own start-up, XTRA.art which she started with a friend when she was 17. XTRA.art supports young artists in their artistic, professional and personal development by breaking down the art world's barriers to entry, connecting young artists with businesses to exhibit their work.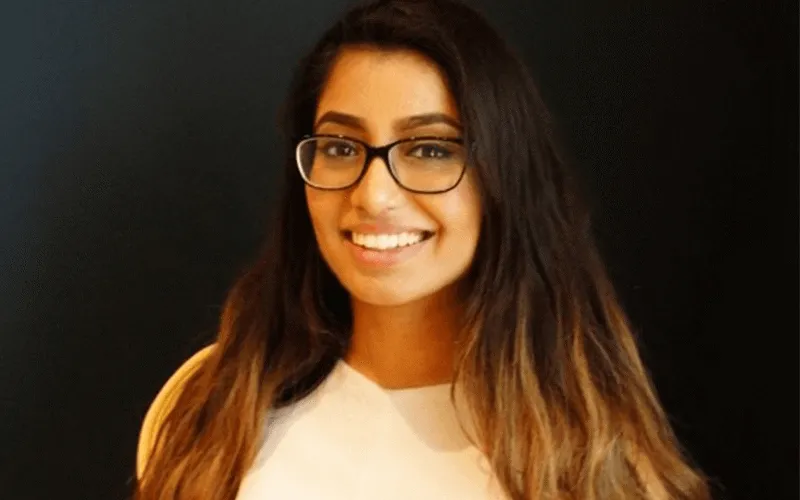 Interview with Ria Walia: student, intern and co-founder of XTRA.art
The Entrepreneurship Institute at King's College London supports entrepreneurial experiences amongst King's students, staff and alumni. The Entrepreneurship Institute is located inside Bush House and holds regular workshops, seminars and events for students. Every year, 20 start-ups from King's are chosen to take part in a year-long accelerator programme where they receive support valued over £60,000. Over each summer the Entrepreneurship Institute takes on interns from King's Business School who support and learn from the accelerator start-ups and Entrepreneurship Institute mentors. 
Why did you want to intern for the Entrepreneurship Institute?
Despite studying a mathematical course, which I enjoy very much as it peaks my interests greatly, I have also had a keen eye for entrepreneurship. I co-founded XTRA.art, when both my co-founder and I were 17 years old. Thus, when I came to university I placed myself in the periphery of the outstanding Kings20 start-ups, hoping to learn and also be inspired by their dedication and charisma to their ventures. The Entrepreneurship Institute has been incredibly supportive throughout the past year and being given the opportunity to be a part of their team seemed exceptionally appealing. This would grant me exclusive access to start-ups and inspiring entrepreneurs to learn from. It's the culture at the Institute that makes it feel like a comfortable yet inspiring space to be in. Before actively joining the Institute, I didn't feel as at home amongst any other society or community as I felt here. I was motivated to apply, primarily, so I could deepen my knowledge about the field and entrepreneurship overall.
During term time I would salvage as many hours and find ways I could be a part of the Institute's activities. So, knowing that I can now spend an entire summer there has made me incredibly excited. Many universities cannot offer what the King's Entrepreneurship Institute can and being able to devote months in a space I absolutely adore is a dream come true. I feel like a child in a sweetshop -its every entrepreneurs heaven!
How do your studies at King's support your work with XTRA.art and vice versa?
There is no doubt that my degree has helped me dramatically in developing my venture. The discipline and rigorous accuracy required for my degree has affected the manner in which I approach business problems. The Entrepreneurship Institute has broadened my horizons in such a small amount of space along with the support they have given me has made me love the world of entrepreneurship even more. XTRA.art has taught me a spectrum of skills especially managing my time and organisation that have greatly helped me with my studies. The discipline I have developed through running a venture has made the transition into University a smooth one. 
What are you most looking forward to about interning at the Entrepreneurship Institute?
From my experience with the institute, I believe it provides a holistic environment which nurtures entrepreneurs socially, mentally, and professionally. Whilst I am incredibly excited that I will have an unmatched opportunity to network, I most look forward to being in the office absorbing as much knowledge about different management styles, business models, personalities, styles of work and so much more! Being amongst the country's most talented entrepreneurs and recognised experts is an environment I really look forward to being surrounded by. I cannot wait to absorb their wisdom and knowledge to develop myself as a budding entrepreneur. 
What most excites you about running XTRA.art?
XTRA.art has been a vessel by which I can channel all my creative energy and my entrepreneurial spirit. Running a start-up does not feel like work, it's an addictive passion. I do believe I have been bitten by the entrepreneur bug ever since I began my journey with XTR.art. It's the adrenaline I get from multi-tasking, thinking on my feet, all under pressure that keeps me wanting more. The feeling of building and creating something from its conception makes this an unbelievable experience. The concept of being able to achieve anything and everything depending on how much work and effort you put behind an idea is what ultimately drives me. 
I am a creative individual; my degree provides me with intellectual stimuli, however XTRA.art fulfils my inner artist. My happiness comes from when our customers- emerging artists- tell us how impactful our services have been to their lives. Being an entrepreneur means you must wear many hats at one given time.
Can you tell us a bit about XTRA.art? How did the idea come about and what was the mission?
The idea of XTRA.art came about when we saw plenty of young people who were inspired by the arts and wished to have an artistic career but were reluctant to pursue one because it required a pre-existing network to get their foot in the door. In addition to this, a creative career seems like something of an oxymoron to many people - it isn't something you could seriously try to convert passion to income. 
Having pursued the creative arts whilst at school, we were exposed to the contemporary British arts industry and the artists that inhabit this space. We found that the impossibility of breaking into the arts industry without the prior exposure was not only causing damage to the artists; it was hurting the arts industry itself. Any industry with such high barriers to entry risks becoming a lazy, unchanging monopoly. XTRA.art came about out of frustration - our mission was to kick down the barriers for emerging artists. We would provide them with the opportunities, employment and exposure they needed as a leg-up to begin a profitable career in artistic education and work.
What are the most challenging and rewarding things about being an entrepreneur in 2018?
2018 has been a year of many challenges and triumphs. January served as a huge pivotal point for XTRA.art. We made the decision to change from operating as a charity to thinking like a commercial entity. My team and I had to step out of our comfort zone and start working in ways we had never done before. For one, we had never thought of applying for entrepreneurial competitions or programmes. Nevertheless, we have enjoyed moments of success before. From our formation in 2015 we gained rapid recognition within the creative industry in the South East England region. Within a year we were honoured to receive an award for our entrepreneurial skills at the Youth Awards, in 2016 and then in 2017. Through XTRA.art I have delivered projects and hosted events at a national level, in places such as Tate Modern and the University of Oxford, with past project partners also including the British Museum and Tesco.
XTRA.art has accumulated a total of £72,000 in funding from national bodies such as the Arts Council England. We are still the youngest recipients of ACE funding. This year we were named 'Top 10 Student Start-up of the Year' by Enterprise Nation and we were a part of this year's Kickstart cohort a pre-accelerator programme that allowed us to gain a mentor from Alibaba. Being a part of Kickstart meant I faced new challenges - I now had to lead a team of 11. Through the programme I developed greatly because I was out of my comfort zone. Alongside the programme I had to organise and host an exhibition at Somerset House. Juggling preparing for an investors pitch and curating the exhibition was probably the most stressful period of my entrepreneurial journey, but the rewards matched this. 2018 so far has been packed with challenges but this was met with a steeper learning curve, greater risks and successes.
What's the best advice you've ever been given?
Never settle for anything less in life - I remember this quote being said to me at a very young age. This may not be the most ground-breaking advice ever given to me but what it means to me has had a huge impact on my life. I believe in hard work and especially hard work for something you really want, nothing is impossible to gain. When you set your mind to something I really do believe you can achieve it. I never just want to accept anything- I guess this also stems from the principles of mathematics - but thriving for something I really dream of achieving. 
Thank you to Ria for taking time to talk to us. Make sure to check out XTRA.art and head to the Entrepreneurship Institute to learn more about their work and how to get involved.