02 December 2021
Introducing the HOME-Zero challenge shortlist
The six creative groups using art to help reduce carbon emissions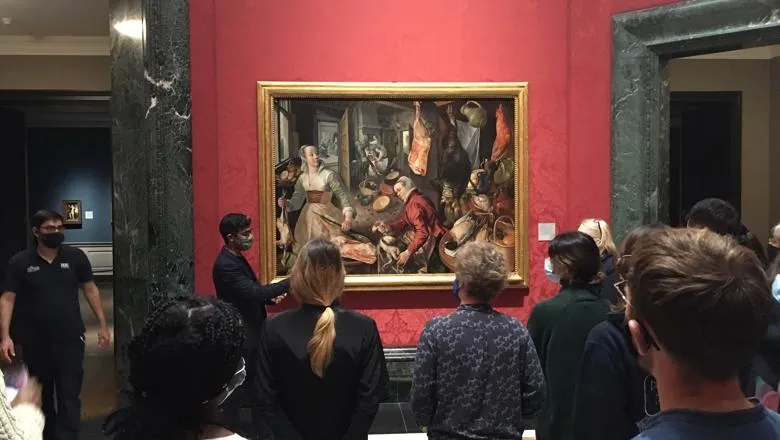 Home-Zero creative teams explore the collection of the National Gallery
In October 2021, Nesta and National Gallery X (a collaboration between The National Gallery and King's College London) launched a unique creative opportunity to develop an experience that helps catalyse a zero-carbon future, inspired by one of the greatest collections of art in the world: HOME-Zero.
The aim is to create a compelling experience to highlight the significance of household emissions that has an impact beyond the gallery's walls and to help amplify media and public interest in climate change and the impact of household emissions. When it goes public in 2022, this work will contribute to a popular movement to help make the UK's homes cleaner and greener.
Six creative teams have been shortlisted for the HOME-Zero commission:
As part of the pitch development process, creatives attended a one-day 'Ideas Lab' in London to help develop their projects. King's academics Dr Emily Barritt, Lecturer in Tort Law and Co-Director of the Transnational Law Institute at The Dickson Poon School of Law, Dr Robert Cowley, Lecturer in Sustainable Cities in the Department of Geography, Faculty of Social Science & Public Policy, and Dr Rowan Gard, Lecturer in Liberal Arts, Sustainability and Socially-Engaged Education in the Department of Liberal Arts, Faculty of Arts & Humanities provided unexpected perspectives for the creative teams alongside input and expertise from Nesta, the curators at The National Gallery, and audience and digital professionals from National Gallery X.
Each of the shortlisted applicants have been invited to develop a final idea to pitch to a selection panel from Nesta, National Gallery and King's College London. A group of pitches will be selected for a public vote (to run in January), with the final commission awarded to the pitch that gains the most public votes.