06 April 2021
It's time for a new 'Washington Consensus' – fighting poverty at home and abroad
Douglas Alexander
IMF-World Bank meetings this week could signal a new economic approach from the US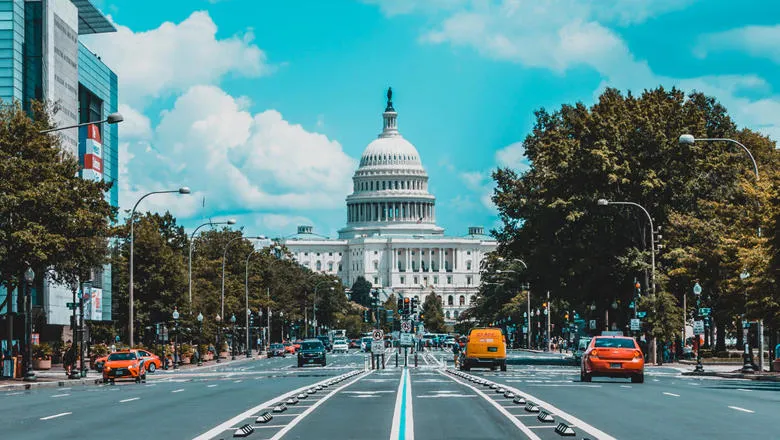 The International Monetary Fund and World Bank Spring Meetings are taking place this week. The pandemic means that, for a second year running, these international meetings will be virtual. Yet both organisations remain headquartered in a city – Washington DC – that has witnessed a revolution in US economic policies in recent weeks.
President Biden's CARES (Coronavirus Aid, Relief and Economic Security) Act, signed into law in March, sends $1,400 cheques to adult and child dependents, increases the child tax credit, and boosts the Earned Income Tax Credits (EITCs) for adults without children. According to research by the Urban Institute, as a result of this act, poverty in the US will fall by a third, and child poverty by over half. Little wonder comparisons are already being made with Lyndon Johnson's "war on poverty".
Yet even greater economic change is already being planned in Washington. President Biden is already campaigning for his next economic initiative – the $2 trillion American Jobs Plan, an infrastructure package focused on upgrading the electricity grid, boosting renewables and electric vehicles and decarbonising power. The initiative is being compared with that of another former president, Franklin D Roosevelt's "New Deal".
It's hard to overstate how completely old economic orthodoxies are now being cast aside. It was in 1981 that Ronald Reagan uttered his infamous line: "Government's not the solution to our problem; government is the problem. 40 years on, the Reagan Revolution – with its belief that the only answer to market failure was more markets – is yielding finally to the Biden Revolution in Washington.
This week's Spring Meetings will tell us if a new Washington consensus is emerging: not the old consensus of limited government within the US and austerity-driven economic surveillance beyond, but a new consensus of activist government at home and ambitious recovery support abroad.
A new approach at the IMF was certainly signalled earlier in the pandemic, when its Managing Director, Kristalina Georgieva, brought down the curtain on the era of austerity by declaring: "Spend as much as you can, and then spend some more for your doctors, for your nurses, for the vulnerable people in your society". David Malpass, the Trump loyalist who leads the World Bank, has alas not shown such innovative or ambitious thinking on tackling the pandemic.
Yet, as the Spring Meetings this week will confirm, the real power in these institutions rest with the national governments that make up their shareholders. The US – the IMF's largest fundholder – has thankfully now reversed its previous opposition to a $650 billion boost to global liquidity. The chosen vehicle – reserves known as special drawing rights – are the fastest way to get resources to countries in need. The drawback to this approach is that SDRs are distributed in proportion to each country's share in the fund, so it's vital in the weeks ahead that a mechanism is agreed quickly to allow wealthier countries to channel their allocation to low-income countries.
It also seems possible that help financing the global rollout of Covid-19 vaccines will be agreed this week, together with a further pause on debt service payments for the poorest countries. Yet it's vital for these nations that a more systemic approach to debt relief and restructuring (including private creditors) is taken quickly, given that 80 countries have so far approached the IMF for emergency funding. And this new approach to debt sustainability will be needed even before the huge financing needs of the climate transformation are addressed.
It is hard to overstate the urgency of and need for a new approach at this week's meetings. The IMF estimates the financing gap for low-income countries left by Covid-19 is $450 billion. Meanwhile, just 0.2% of vaccine doses administered have been in such nations. Little wonder that in a curtain-raiser for the meetings, Georgieva warned of the rise of a "great divergence", as rich countries vaccinate their people and recover economically, while poor countries remain mired in poverty and the pandemic.
The early weeks of 2021 have witnessed new thinking and new ambition in America's domestic efforts to tackle poverty. We must all hope that this week new thinking and new ambition emerges on international efforts to tackle poverty: lives and livelihoods depend on the emergence of a new "Washington Consensus" – fighting poverty at home and abroad.
Rt Hon Douglas Alexander is a Visiting Professor at the Policy Institute, King's College London, and a former UK Governor to the World Bank.