16 April 2018
Jessup Moot Semi Finalists
Students from The Dickson Poon School of Law reached the semi-finals of the International Rounds of the 59th Philip C. Jessup International Law Moot Court Competition.
The Dickson Poon School of Law
King's students Andrew Brown (LLB, second year),  Radhika Sharma (LLB, second year), Sarojah Sathivelu (LLB, second year) and Eyvana Bengochea (LLM) faced teams from Albania, Bangladesh, the United States and Canada in the Preliminary Rounds - progressing to the Advanced Rounds.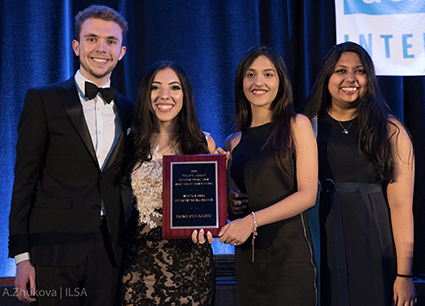 In the knock-out rounds, the team defeated the Indian National Champions, Gujarat University (Run-Off Round); the University of São Paulo, Brazil (Octo-Final Round); and the University of Pretoria, South Africa(Quarter-Final Round). The team lost their Semi-Final to the National Law School of India University.
William De Catelle (LLM) was a member of the team during the U.K. National Rounds but left the team before the International Rounds. He is credited, along with his teammates, for the Twentieth-Best Combined Memorials Prize for his contribution to the Memorials. 
The Jessup is the largest and most prestigious mooting competition in the world. This year, 700 law schools competed in the competition worldwide - with over 115 of these teams advancing to the International Rounds in Washington, D.C. - which took place from 1-7 April 2018.
The result is an exceptional one: for the fourth time in five years, the King's team has ranked in the top-five mooting teams in the world - reaching the Semi-Final Round three times. This consistency is a testament to the hard work of the team, and the support and dedication of the Law School to public international law and mooting.
The team was coached by King's alumni Neza Hren (LLB, 2013) and Caleb Kirton (LLB, 2017), who dedicated a significant portion of their time over six months to push the team to their ranking.
The coaches and team wish to thank the members of staff and the legal profession, who have helped to prepare them for the Competition - including: the Director of Mooting, Dr Emily Hudson; Dr Philippa Webb; barristers Andrew Carruth (Quadrant Chambers) and Lucas Bastin (Essex Court Chambers); Mr Qudsi Rasheed (Foreign and Commonwealth Office); and Mr Daniel Robson and Ms Zoe Fear. 
Credit for photo: A. Zhukova | ILSA.