24 January 2020
Joana Barata, Wellington Medal Winner
Joana Barata, a BSc International Management graduate, received the Wellington Medal on 22 January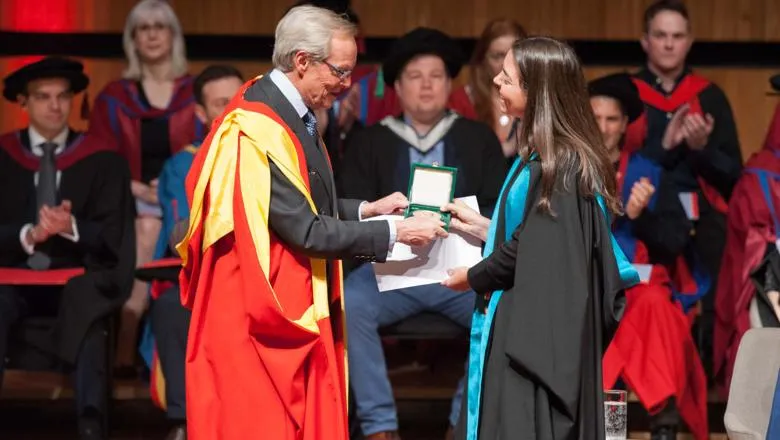 Joana Barata receives the Wellington Medal from Charles Wellesley, the 9th Duke of Wellington and former Chairman of the King's College London Governing Council
22 January was a big day for Joana Barata. Not only did she formally receive the BSc in International Management degree she completed in the summer, but she also became the university's second ever Wellington Medal winner.
This new award recognises exceptional academic performance and potential, and was created by the Arthur Wellesley, the 9th Duke of Wellington and former Chairman of the King's College London Governing Council.
Joana graduated with First Class Honours and during her time at the Business School played a key role in the activities of the King's Business School Student Investment Portfolio, as well as serving as a mentor to first year students. During her university vacations she was an intern at some well-known names in financial services, before joining the Goldman Sachs equities trading team in August. We caught up with her ahead of graduation day:
What did it feel like to win the Wellington Medal?
I was very surprised. When I was told I had been nominated I was very happy, but never thought I'd actually win. It is a great honour.
What (non-academic) thing did you learn at King's Business School?
When I first started, I wasn't very sure what I wanted to pursue after King's, I just wanted something analytical. Attending events and societies helped me grasp the different career paths available to me and build my own network. King's location in the centre of London meant I could attend business events, which helped me understand the importance of building relationships in the corporate world.
I felt that financial markets offered an exciting challenge, and that led me to receiving a job offer from Goldman Sachs.
What are you proudest of?
Seeing that the hard work I put in during those three years is being recognized in receiving this medal, and realized in my place of work.
What was it like making the transition from student to professional when you started at Goldman Sachs?
It was quite challenging to begin with, however, perseverance and the excellent work ethic and knowledge I learned from my degree have made the learning curve easier to deal with.
What's your advice for current King's Business School students or students thinking of applying here?
 King's gave me the best three years of my life with an amazing student experience, colleagues who are now my friends and lecturers who I will keep in touch with for a long time. 
Even if it all seems tough, everything will pay off in the end. Keep giving it your best shot at all times but don't forget to have fun! You'll truly miss it when it's over.