15 August 2017
Katherine Butler Schofield awarded British Academy Mid-Career Fellowship
Dr Katherine Butler Schofield has been awarded a Mid-Career Fellowship by the British Academy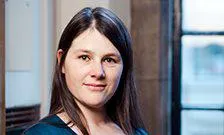 Dr Katherine Butler Schofield
Congratulation to Dr Katherine Butler Schofield, Senior Lecturer in Music, who has been awarded a Mid-Career Fellowship by the British Academy for her project Histories of the ephemeral: writing on music in late Mughal India, 1757–1858. 
Through a series of public lectures, conversations and webinars culminating in a new monograph, this project will tell the forgotten stories of Indian musicians, patrons, and the courtly culture they inhabited during the tumultuous period of transition from Mughal to British rule.
This year the British Academy has appointed 47 new Mid-Career Fellows, whose research areas span the humanities and social sciences.

Mid-Career Fellowships allow academics to focus on a major piece of research and to communicate their work to a wider audience, by obtaining time away from teaching and administration commitments.

The new Mid-Career Fellows are recognised as excellent communicators and 'champions' in their field, as well as for their distinguished publication record.
Find out more about Mid-Career Fellowships on the British Academy website.
In this story