14 December 2016
KCL Researchers get £1.6 million grant to make healthcare mobile
Researchers in the Department of Informatics and the Division of Health & Social Care Research at King's College London have been awarded an Engineering and Physical Sciences Research Council (EPSRC) grant of £1.6 million to fund the Collaborative Mobile Decision Support for Managing Multiple Morbidities (CONSULT) project. The project aims to establish an intelligent mobile system that uses health and medical data from a number of sources to help patients suffering from chronic diseases and associated conditions self-manage their treatment.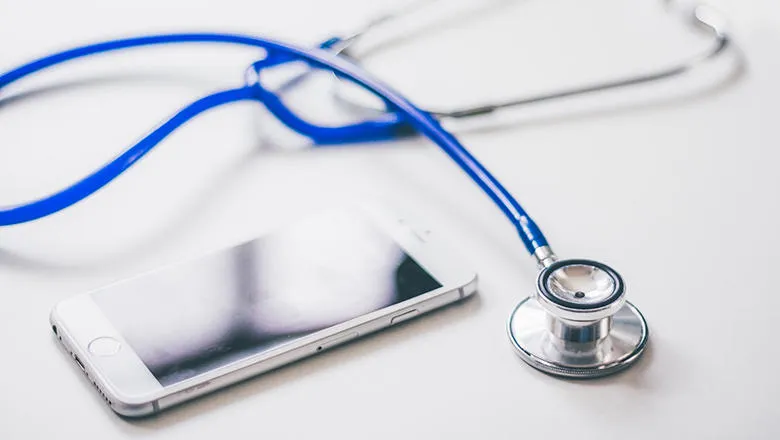 Smartphone and stethoscope
The number of patients in the UK with multiple co-occurring diseases is increasing and presents a challenge for healthcare providers nationwide. Recent advances in wireless technology have meant that patients can now monitor a wide range of data at home, including blood pressure, heart function and glucose levels. However, there is currently no method of combining this data with a patient's Electronic Health Record (EHR) and treatment plan (based on current best-evidence guidelines and customised by the patient's GP). The record of a patient's condition and decisions made is also not routinely captured in a standardised way, preventing learning from feedback about treatment effectiveness.
To address these gaps, the CONSULT project will combine wireless "wellness" sensors with intelligent software running on mobile devices, such as smart phones, to support patient decision making. The software will help patients follow treatment guidelines and will aid in personalising treatment advice within medically sound limits. As monitoring of sensor will occur in real-time it will also be possible to distinguish between situations that need attention from medical professionals and those that do not, reducing the number of extra appointments.
Dr Elizabeth Sklar co-investigator on the project from the Department of Informatics said: "CONSULT is a truly multi-disciplinary project, bringing together researchers across the disciplines of computer science, data analysis and health and social care research, from two of King's campuses at the Strand and Guy's. From a technology standpoint, we are capitalising on our combined skills and experiences, drawing from data science, sensor technologies and automated decision making; and from a medical standpoint, we are drawing on expertise in Electronic Health Record development and stroke care. The CONSULT prototype will represent an exciting, cross-disciplinary team effort that could eventually make a real difference in the lives of patients."
The technology will be evaluated across multiple dimensions in a proof-of-concept study, engaging stroke patients, their carers and medical professionals and should not only provide more efficient care, but also allow care to be better tailored to the needs of each individual.