29 June 2016
KCL Robotics Open Day
The Centre for Robotics Research (CORE) at King's College London kicked off National Robotics Week (25 June to 1 July) with an open day where they showcased their latest projects. They focussed on solutions that would deal with a broad range of everyday issues ranging from elderly healthcare to surgery.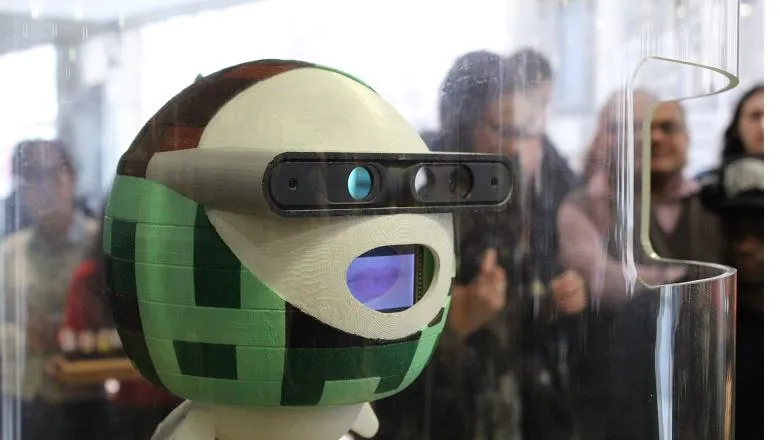 Kinba, robot receptionist
Brendan Michael from CORE demonstrated how sensors can be embedded in clothing to create a minimally invasive and highly accurate health monitoring system. If the sensors are embedded into sportswear they can measure muscle activity, monitor the risk of injury and the nature of the surface on which you run. Watch a demonstration here.
The group also showed visitors a prototype robotic cat for healthcare monitoring. Postgraduate student, Wen Hui, showed how the cat could monitor the health and wellbeing of an elderly person and alert family members or medical services to changes in their status.
A robotic arm based on an octopus tentacle, which is dextrous enough to perform surgery was demonstrated by Dr Liza Konstantinova from CORE. The robotic arm is soft and flexible and can be controlled remotely by a surgeon to reach areas in the body that were previously difficult to access.
Dr Elizabeth Sklar, head of the Data Science MSc in the Department of Informatics, was also at the open day talking about a CORE project in the works that will hopefully lead to a mobile Kinba (King's robot receptionist) at some point next year. Follow Kinba on twitter for updates.