05 December 2019
King's and KCLSU sign relationship agreement
King's and KCLSU have signed an agreement outlining the common goals for this academic year, ensuring every student at King's has the best possible university experience.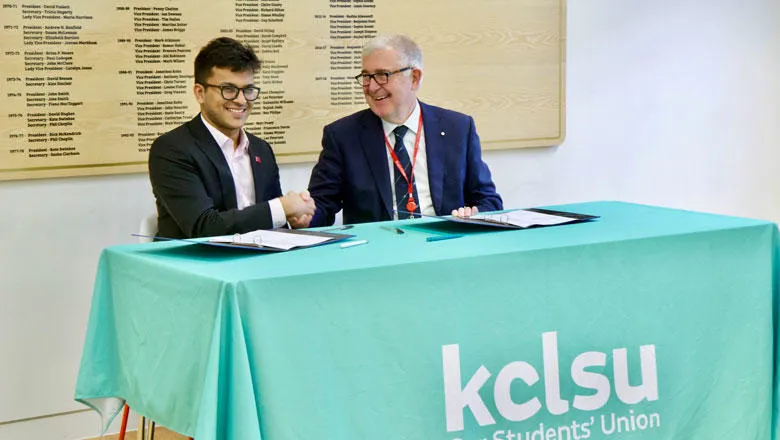 Principal Ed Byrne shakes hands with KCLSU President Shaswat Jain
On Thursday 28 November, Principal Ed Byrne and KCLSU President Shaswat Jain signed an agreement outlining how the union and the university will work together this academic year, ensuring every King's student has the best possible experience.
The King's College London and King's College London Students' Union Relationship Agreement clarifies the role of each organisation in providing for students.
Signed in front of students and staff at Bush House, the agreement states how King's and KCLSU will work together, setting out four shared key priorities for the 2019-20 academic year.
These are:
Increase mental health support
Improve support and opportunities from King's Careers & Employability Service
Campaign to decolonise the curriculum and liberate education at King's
Student Voice and Representation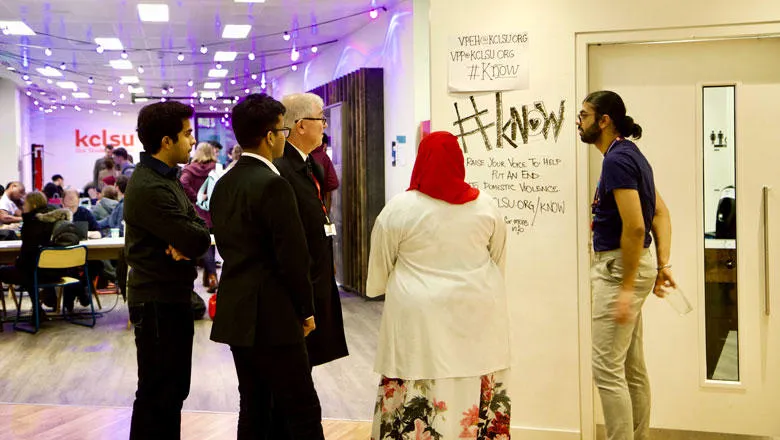 Principal Ed Byrne and KCLSU staff discussing KCLSU's #Know campaign.
The Principal also toured the union spaces, speaking to the staff and students behind the King's Inclusive Education Partners, KCLSU Vice-Presidents Rhiannon and Nafiza about KNOW, their campaign against domestic abuse.
Principal Ed Byrne in an interview with KCLSU's media societies.
After an interview with KingsTV, he also spoke to KCLSU staff members about their aims for the year, and how King's and KCLSU can help to support them further.