31 October 2018
Kings Business School announces strategic partnership with Sciences Po
King's Business School is delighted to announce a formal partnership with the School of Management and Innovation at Sciences Po, Paris.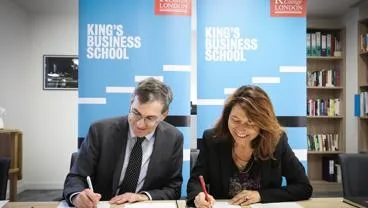 Sciences Po Signing
With an ambition to train professionals capable of re-thinking the role of business in society, the School of Management and Innovation was an obvious partner for King's Business School. And, after numerous fruitful conversations, Stephen Bach, King's Business School Executive Dean, and Igor Filatotchev, King's Business School Vice Dean for International, alongside other members of the School's Senior Leadership Team, welcomed a delegation from Sciences Po last Friday to formally sign a strategic partnership agreement.
Our partnership will have four main areas of focus. 
To examine the opportunities for joint research, and academic exchange
To collaborate, and integrate, graduate development programmes, including PhD summer schools and conferences
To explore the future potential for joint MSc programmes
To join a network of European top schools centred around Sciences Po that aims to promote business and management education worldwide
This partnership builds on a long history of collaboration between King's and Sciences Po, which led to the first of King's Business School global partnerships. These global partners are a key element of the School's International strategy, which is led by Igor Filatotchev.
In a parallel development, not formally linked to the partnership, Marie-Laure Djelic, Dean of the School of Management and Innovation will join the King's Business School Advisory Group.
On signing the agreement, Igor Filatotchev says: "This partnership marks such an important first step in establishing our global footprint. Sciences Po shares many values with King's Business School, a pioneering School of Management and Innovation within an historic and globally recognised institution. There is much we can achieve together, and I am eager to get started with Marie-Laure and her team''. 
Stephen Bach added: "For me, this partnership says a few very important things about Kings Business School. It demonstrates our global ambition; the quality of our work to attract such a prestigious partner and our firm commitment to continued engagement with European counterparts. On a personal note, I am especially pleased that Marie-Laure will join our advisory group. Marie-Laure's experience and insights will add huge value to the future direction of our school''.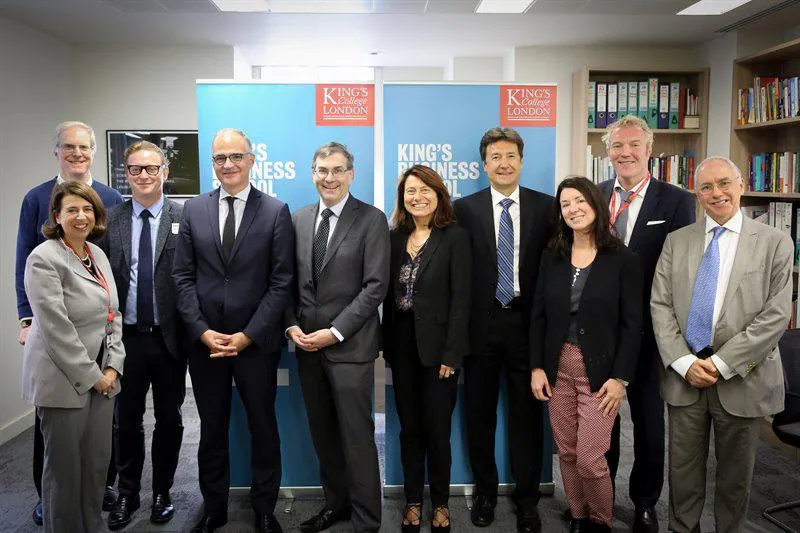 Sciences Po Group
Marie-Laure Djelic commented: "KBS is building something new, a different kind of business school. That's really exciting for me and the entire team at the School of Management and Innovation. We shall approach this partnership with an entrepreneurial spirit and I look forward to seeing what we achieve together''.