17 September 2017
King's Business School Research - The influence of labels on how people experience with art
Discovering Pictures - the influence of labels and electronic devices on how people experience & engage with art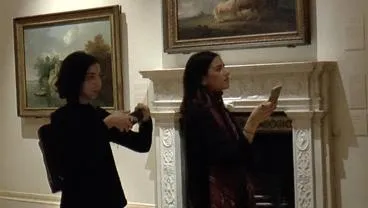 King's Business School Research - The influence of labels on how people experience with art
Discovering Pictures - the influence of labels and electronic devices on how people experience & engage with art
In close collaboration with the Royal Academy of Arts, academics from King's Business School are conducting experiments at the Royal Academy in which they examine how the descriptions that accompany pictures influence the ways in which people look at and discuss exhibits in the collection.
New collection displays
As part of major redevelopment, the Royal Academy of Arts is committed to enhance the information available to visitors when they visit the Academy's new collection displays that will open in 2018.
The team, consisting of Christian Heath, Dirk vom Lehn and Francesca Salvadori (King's Business School), in close collaboration with Maurice Davies and Claire Clutterbuck (Royal Academy of Arts), used video-recordings of visitors to a gallery with paintings by John Constable RA. They explored how people use the text provided on labels or devices such as iPads and iPhones to make sense of the exhibits in their interaction with others.
Important impact 
The experiments suggest that small changes to the descriptions have an important impact on what visitors look at in works of art. The team plan to develop these studies to draw out the specific implications for the design of descriptions on labels and electronic devices, that may enhance people's engagement and experience of the exhibitions at the Royal Academy.