24 September 2017
King's Business School signs agreement with New Giza University
King's College London is to work with the New Giza University (NGU), Egypt, to develop a new undergraduate business degree.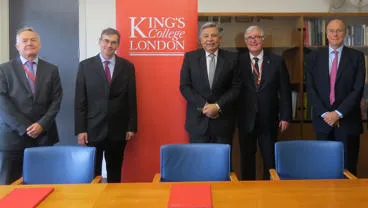 King's Business School signs agreement with New Giza University
King's has signed a five year academic collaboration agreement with NGU to create and deliver a high quality degree which will see senior staff from the newly formed King's Business School faculty working with NGU colleagues in strategic planning, organisation and governance of the new business programme.
The programme aims to be high quality and contemporary and partnership work begins on 24 September. King's staff will support NGU colleagues with infrastructure and educational resources development, development of curricula and learning resources, faculty and senior staff recruitment, faculty development and education quality assurance.
NGU is a private university in the Cairo satellite city of New Giza, the Arab Republic of Egypt, and aims to become a leading educational hub offering a range of academic degrees. It has a number of collaborative arrangements and partnerships with educational, research and health service institutions both within and outside of Egypt.
Executive Dean of King's Business School Professor Stephen Bach said: 'We are thrilled to be working with NGU on this proposition which we believe will offer very exciting opportunities for a generation of young bright people from Egypt and the region to become the business leaders of the future.'