11 March 2022
King's Business School Student Awards Nominees 2022
Announcing the nominees in the Business School's first ever student awards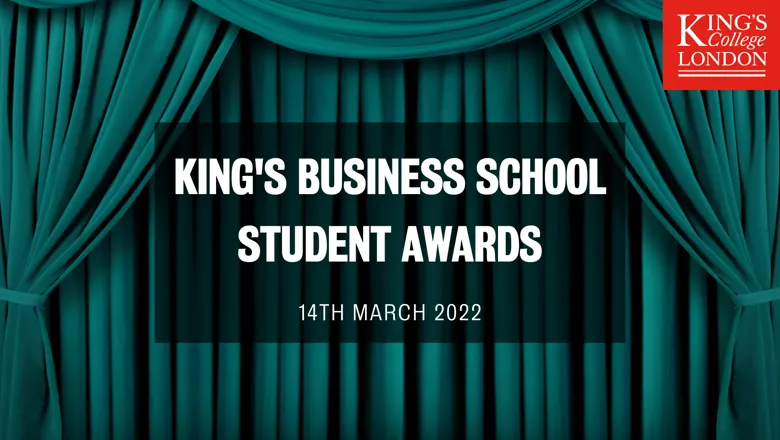 We are proud to announce the nominees of King's Business School's first-ever student awards. The awards recognise and celebrate our students' outstanding impact on King's Business School and our wider community - whether through their work as student representatives, mentors or student societies and beyond.
We asked King's Business School staff and students to suggest nominees in seven different categories. After careful consideration the nominees for this year's awards are as follows:
Outstanding Representative of the Year
This award recognises Academic Representatives that are truly committed to their role and the fair representation of their cohort's academic interests.
They nurture productive working relationships between students and staff, and actively seek course-related feedback from their fellow students.
They strive for productive, realistic solutions. They are effective, coherent communicators, good negotiators, and are motivated to enhance the academic experience of students on their programme. There is one award for each year of student – undergraduate and postgraduate.
Undergraduate
Jakub Zdunczuk, Mounik Nilesh, María Cecilia Monell, Rammani Mandal, Sofia Serafimova, Alisa Kelyp, Jakob Maise, Varvara Soloveva, Mikael Medzhidov, Emilio Fabiani – Laymond, Gokce Selen Ersoy, Matthias Reindl
Postgraduate
Yi-Jou Tsai, Kausha Shetty, Sadhika Obheroi, Angela Maalouf
Diversity and Inclusion Award
This Award recognises an individual who has contributed to making King's Business School a more inclusive place to study. They are committed to reaching every member of the King's Business School community, going above and beyond to ensure people are equally involved and represented. This may have been done through various methods such as initiatives, actions, events, schemes or campaigning.
Their actions work towards changing the culture of the Business School and instilling the values of equality, diversity and inclusion throughout their contributions.
Nominees
Trisha Banerjee, Pranjal Vig, Wiraporn Vichitsangsri
The Innovator Award
The Innovator of the Year Award looks to celebrate our innovative students. The award is for a student or group of students who have developed, created, or implemented an innovation or initiative that has provided or will positively impact the King's Business School community as a whole, the students' university experience or the wider community.
Nominees
Leonardo Sposito, Dehusk (Samuel Tecuala, Sho Kubota, Christina Zagita, Katrina Scott-Hyde), Aditya Mehrotra
BNOC Award (Big Name on Campus)
This award celebrates a student who has made an outstanding contribution and shown dedication to our School and its community. These individuals have contributed significantly to our community's dynamism through exceptional acts of leadership and by investing significant time.
They may have run outstanding club initiatives, organised significant student events, shown a commitment to helping others and/or proven themselves to be brilliant student ambassadors for King's Business School. They are known across the student and staff body for their continuous involvement and contributions.
Nominees
Elliot Östlin, Aanchal Jain, Trisha Banerjee
Outstanding Student Mentor of the Year
This award recognises a King's Business School Student Mentor who has gone above and beyond to support their mentees in their transition to university.
This mentor always kept their mentee's best interest in mind and has demonstrated exceptional commitment to ensuring that the mentoring relationship is built on a foundation of mutual trust and honesty. This mentor serves as an effective role model and resource for their mentees and is always motivating, inspirational and encouraging.
Two awards are available in this category: one for a student in year two, one for a student in year three.
Nominees
Winnie Tsao, Mia Bowles, Giray Dalgic, Michael Tye, Rammani Mandal, Maliha Mumtaz
Society of the Year
This award is for a student society that has consistently delivered excellent activities and opportunities for its members that were engaging, inclusive and benefited their members' academic or professional development. The activities of the society have in some way empowered their members to either achieve more as individuals or had an impact on their student experience at King's Business School. This society stands out from the crowd and is truly inclusive of all.
Nominees
King's Business Club, Woman in Business, ENACTUS
Sustainability Award
This award is for an exceptional student who has been leading environmental and/or social change at King's Business School. Their impact may have been through: setting up an environmental or social society, embedding sustainability into the core functions of their programme or King's Business School as a whole, campaigning or raising awareness of sustainability issues at the Business School or beyond, putting on a successful sustainability event e.g. conference/film/fair, embedding sustainability into a society.
Nominees
Manish Sethi, Samuel Tecuala, Ewa Glit