20 September 2021
King's Civic Challenge winners launch Caring Stories exhibition at Pop Brixton
Carers' Hub Lambeth, a winner of the King's Civic Challenge 2019/20 health and wellbeing prize, hosts their Caring Stories exhibition at Pop Brixton this week.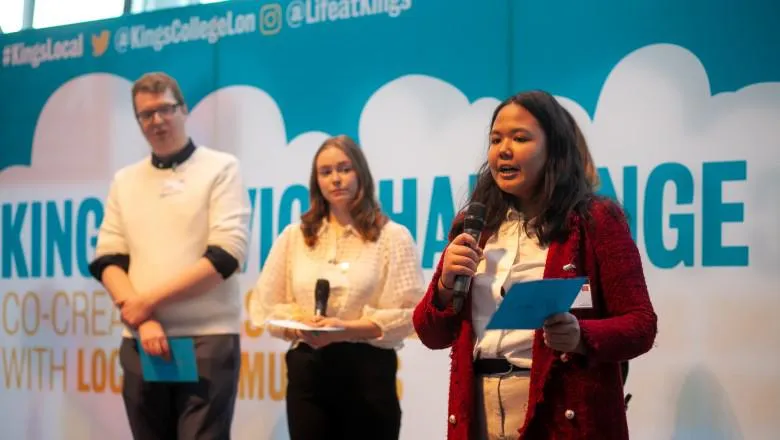 The Carers Hub Lambeth team pitch their idea at the King's Civic Challenge final
The event shares the life experiences of unpaid carers and highlights their contribution to society through a showcase of their work.
Featuring poetry, photography and collages, Caring Stories aims to raise awareness of the challenges that carers face.
A team of King's students and staff worked with Carers' Hub Lambeth from October 2019 to March 2020, to develop a programme that would tackle social isolation among carers in the borough.
They pitched their idea for Caring Stories – a series of workshops to help improve the mental and physical health of carers through peer support – to a panel of judges at City Hall, winning funding to make their idea a reality.
At the event, the team explained that there are at least 20,000 unpaid carers living in Lambeth.
They emphasised that caring impacts on many aspects of a person's life, with eight in ten UK carers saying that they have felt lonely or socially isolated. Carers, they said, are also seven times more likely than average to report always feeling this way.
Caring Stories runs from Monday 20 September to Thursday 23 September at Pop Brixton, with a free live performance and Q&A on the final day 18.00 – 20.00.