08 May 2019
King's to breathe cleaner air into South Korea
Mayor of Seoul, Park Won-soon, sat down with King's Professor Frank Kelly on Friday to learn about London's efforts to drive down its emissions footprint.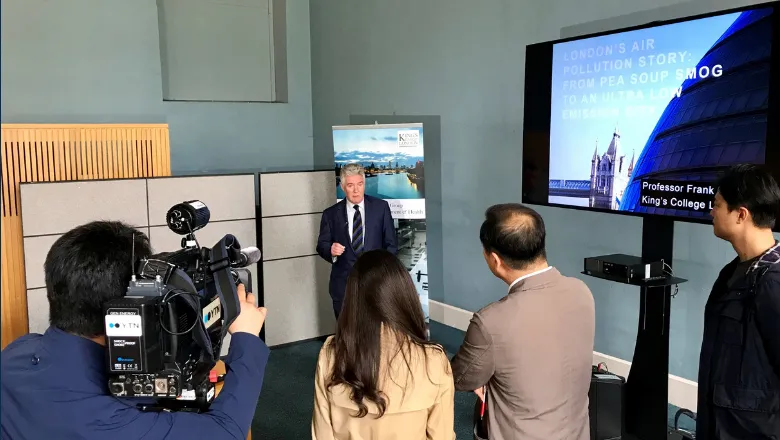 Frank Kelly Seoul Media
London's air quality has improved dramatically in the last few decades, thanks to a suite of major reforms. But there's more to be done. That's why last month, London introduced the world's toughest vehicle emissions standard.
The initiative will help reduce toxic air pollution and safeguard the health and wellbeing of anyone living, working or visiting our capital. King's very own Environmental Research Group was at the heart of this policy – working closely with the Mayor of London as the official air quality monitor.    
Following this ground-breaking move, Mayor Park and a large delegation of media and advisers from Seoul visited King's College to see how they too can adopt a similar approach back home.    
As the air quality in the South Korean capital continues to worsen, the pressure is building to act. Mayor Park has sought advice from King's to combat factors such as coal-fired power generation and high vehicle emissions to keep locals safe.           
Professor Kelly, Director of the Environmental Research Group and Professor of Environmental Health, presented London's air pollution story – from pea soup smog to an ultra-low emission city. He emphasised that we must work collaboratively to identify the major drivers of air pollution and tackle them head-on to help improve the air people breathe every day.
Read more about the Ultra Low Emission Zone here.