01 February 2018
King's College London hosts event for alumni, faculty and guests of Oman Dental College
Alumni and faculty of Oman Dental College, with other honoured guests, gathered at an event hosted by King's College London in the Sindbad Ballroom, Crowne Plaza Muscat on 31 January 2018.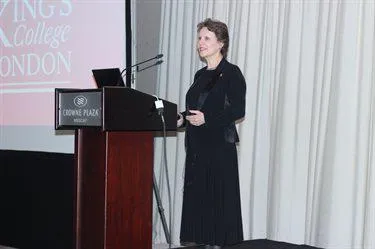 Professor Jenny Gallagher MBE, who has been a visiting Professor at ODC for 6 years, gave a presentation on opportunities for postgraduate dental studies at King's, including distance learning, specialty training and PhD courses. After the inspiring presentation, the guests were able to enjoy a reception and to network with their friends and colleagues.
Professor Gallagher reflected: 'It is an honour to visit Oman and I love teaching here. It's a privilege to inform their emerging dental workforce of learning opportunities in London and also describe how they can upskill via our postgraduate programmes including distance learning courses.'
One of ODC's faculty members, Dr Thillai Viswapurna, who has recently completed an MSc distance learning programme at King's, commented: 'The most exciting part of doing a distance learning programme whilst working was the instant transfer and use of knowledge into my work environment, and also the comfort of receiving a world-class international education at my doorstep.'
ODC alumni, Dr Amur Al Senaidi, added: 'I'm happy in my job but I'm always thinking about how to develop my career and become a better dentist so Prof Gallagher's talk was very useful.'
Dr Rahul Arora, Dean of ODC, concluded: 'We are proud of our graduates and want them to continue to succeed in the world after ODC.'
Professor Jenny Gallagher MBE.