15 March 2018
King's Commission on London report launched with the Mayor
The report of King's Commission on London – London 2030 and beyond – was launched today at City Hall, with the Mayor of London, Sadiq Khan.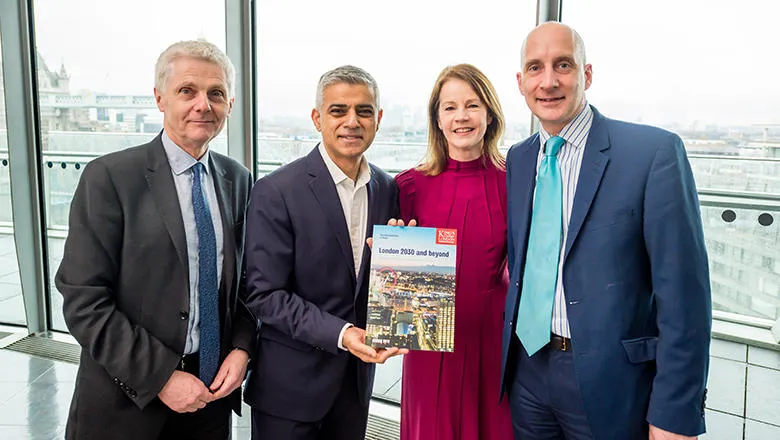 The report of King's Commission on London – London 2030 and beyond – was launched today at City Hall, with the Mayor of London, Sadiq Khan.
Co-chaired by Lord Andrew Adonis, former Cabinet Minister and Transport Secretary, and Professor Tony Travers, Director of LSE London, the Commission was established in 2016 by The Policy Institute at King's. It examines three key areas of the city's long-term future through to 2030 and beyond: its health policy needs, new arrangements for non-university skills training and its economic prospects.
Commenting on the report, the Mayor of London, Sadiq Khan, said: 'London is the world's greatest city – and today's report makes it clear that closing our doors and retreating from the international economy would risk our economic future, and harm the entire country.
'I've seen first-hand how transformative skills, training, and education can be, but our city still has the lowest number of apprenticeships starts per head in the UK. I want the power to ensure that all Londoners are provided with more and better opportunities in further education or as apprentices. And we have already seen how devolving health powers has led to more joined-up services for Londoners – but providing the Mayoralty with strategic oversight of London's health system will allow us to provide higher standards of care.'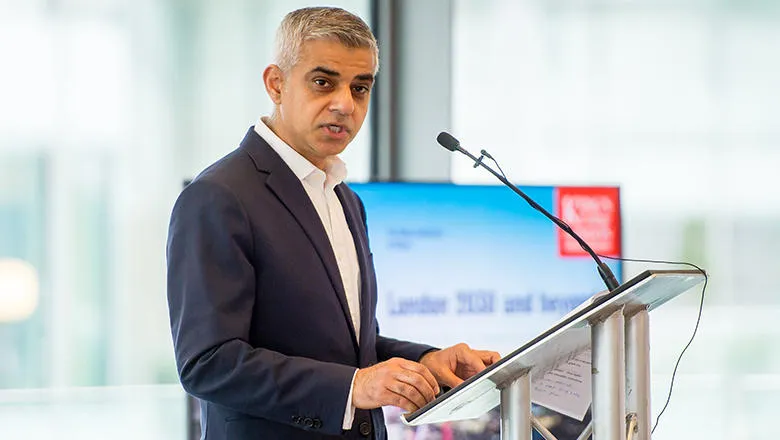 King's Commission on London warns that a step change in integrated health care is needed. It calls for the Mayor to be given strategic oversight of London's health system and the powers to give the necessary priority to primary care. The Commission calls attention to London's fragmented healthcare provision, both within the NHS and the boroughs, emphasising regular and ill-conceived reorganisations, which have led to little clarity on who is accountable for systemic coherence and delivery.
'On health policy in London, we are clear that it is now becoming urgent to tackle the major challenges that face London's primary care system,' said Professor Tony Travers. 'The greater health devolution to London which we propose needs an accountable body, responsible for providing strategic oversight for London's health needs across both primary and secondary care. By focusing on primary care, this will take the pressure off hospital A&Es, and give Londoners the health care they deserve.'
The Commission also presents crucial evidence on the failings of the post-16 non-university education in London. Lord Adonis, Co-chair of the Commission, said: 'Early signs show that the new apprenticeship levy is not working well. Major skills shortages are very clear, especially in construction and digital. This can only be made worse by Brexit.'
A new co-ordinating role for post-16 education is proposed for the Mayor of London, with the Commission welcoming the plans in place to give the Mayor control over adult education funding from 2019. It says, however, that the devolution of funding in itself is not enough. Lord Adonis added: 'Unless we make big strides in raising our level of skills training and provision of apprenticeships, London's economy will be damaged and Londoners will lose out on the prosperity they have the right to expect.'
Assessing London's economy, the report provides in-depth analysis of the implications of Brexit on the capital, outlining four potential scenarios:
Scenario 1, 'Paris on Thames', sees the UK becomes a more inward-looking economy, with higher trade barriers, a relatively weak currency, the loss of some businesses to the EU and reduced foreign investment.
Scenario 2, '1970s London', warns of a 'disorderly' Brexit that sees some of London's distinctive industries leaving, along with falls in foreign direct investment and international migration.
Scenario 3, 'Modern Rome', sees the UK maintain an outward-looking economy along with reasonable trading terms with the EU and free trade agreements with others.
Scenario 4, 'Super city', ensures London takes advantage of domestic and international success. The city continues to grow, assisted by increased devolution of tax and spending powers. Major transport and infrastructure projects go ahead. A strategy at national level of low business taxes and deregulation leads to London enhancing its competitiveness.
The Commission advocates that for London to achieve its greatest potential – for the wider UK as well as the city itself – through to 2030 and beyond, it needs policymakers, both in national and London government, to aim for scenario four. Professor Tony Travers, Co-Chair of the Commission, underlined this point and said: 'We cannot be complacent about London's economy going through to 2030 and beyond, especially in the light of Brexit. It is clear to the Commission that the best option – Scenario 4 – involves the most open, international economy and labour market. Anything else will hold London back.'
The King's Commission on London's findings were debated during a launch event with the Mayor of London chaired by Deborah Bull, Assistant Principal (London) at King's College London. Commenting on the recommendations she said: 'Complex challenges require interdisciplinary thinking, and the convening of different voices to provoke new and imaginative responses. In bringing together King's academics with leading thinkers from across London's policy, business and higher education sectors, this report demonstrates our commitment to work in partnership to improve the lives of Londoners. Ensuring King's expertise has a tangible and transformative impact on London and its communities is central to our Vision 2029 and our ambition to be a civic university at the heart of London.'