01 June 2022
King's community contribute thousands of volunteering hours for Global Day of Service 2022
Students, staff and alumni volunteered across the world in March as part of the annual event.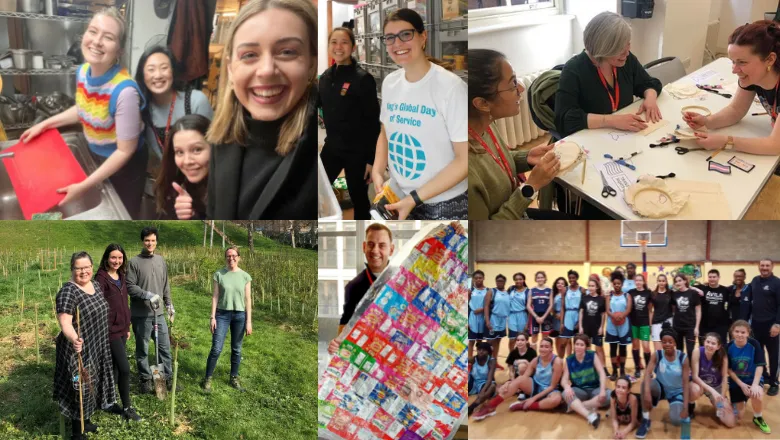 Our students, staff and alumni volunteer throughout the year but in March we see a tremendous boost of energy and effort when the King's community come together across the world to volunteer as part of King's Global Day of Service.
King's Global Day of Service is on 25th March (to celebrate the day King's was founded) but any volunteering activities that take place in March contribute to our total volunteering hours and demonstrate the positive impact that the King's community has in the world.
In March 2022, the King's ethos of serving society was stronger than ever with 575 members of the King's community contributing over 2,900 volunteering hours across 32 countries. From preserving natural spaces in London and coaching basketball, to mentoring students and digitising books for the public domain, King's students, staff and alumni used their knowledge, skills and experiences to give back and make a positive difference.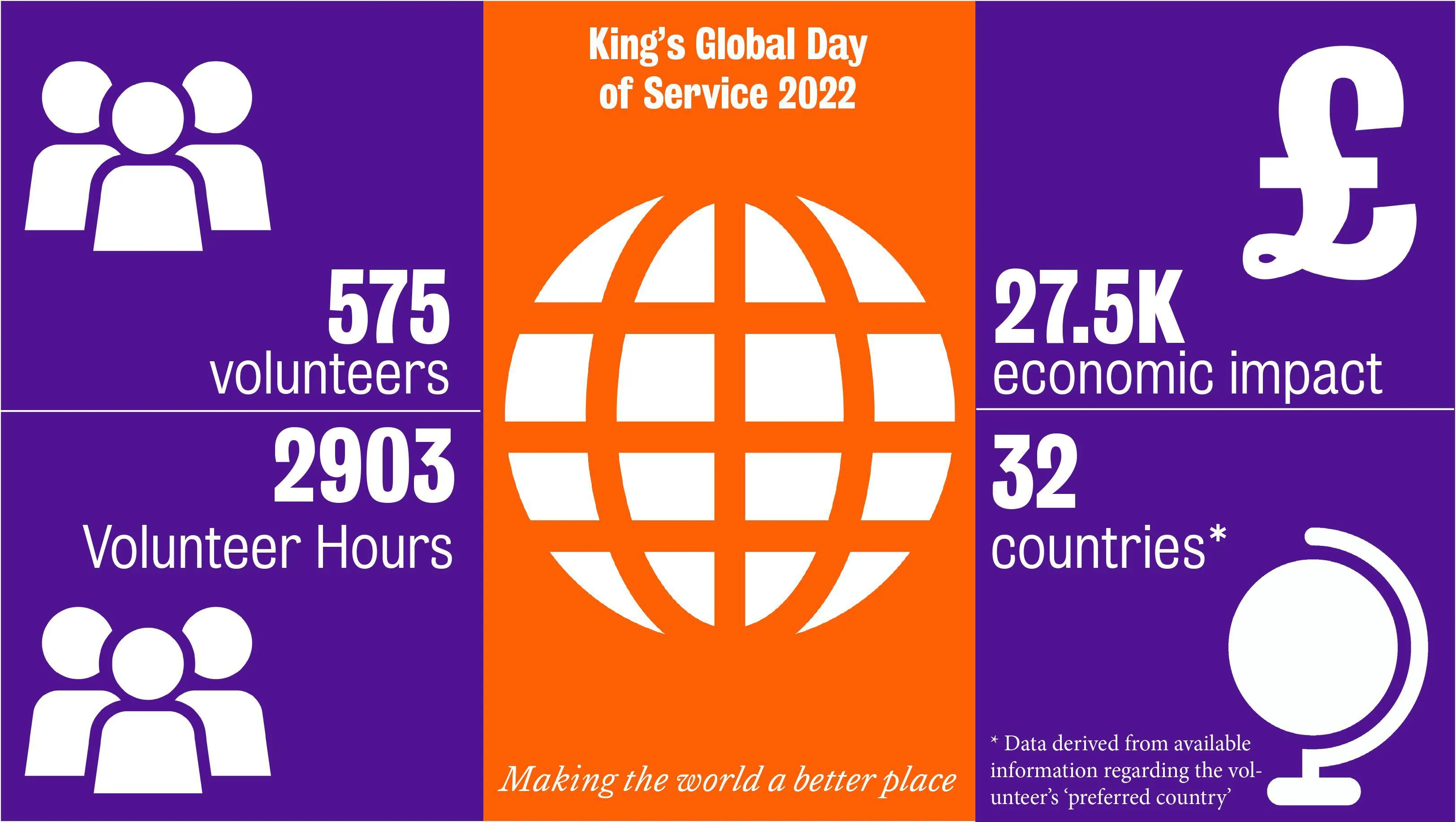 Celebrating our volunteers
Discover how King's Business School Lecturer Dr Anna Rebmann started an initiative to plant trees in her local area, why medical student Chid Nwankwo Soriano took part in four different volunteering events for Global Day of Service 2022 and the skills Campus Technical Manager Peter Bishai draws on when training the NBA superstars of the future.
Follow Service at King's on Twitter, Instagram and LinkedIn to find out what motivates members of the King's community to give back and the many benefits they gain from volunteering.
Sign up to King's new volunteering platform
We are launching a brand new and exciting volunteering service for King's students and staff, building on our commitment to serve society and have a positive social impact.
King's Volunteering is your one-stop shop for discovering opportunities and building connections with people and organisations that are driving positive change in our local, national and international communities.
From one-off events to regular volunteering opportunities, there will be something for everyone. Whether it is the environment, education or mental health, King's Volunteering can connect staff and students with an organisation and a cause that is important to them. More exciting volunteering opportunities will be added as the platform grows.
Sign up to King's Volunteering to connect, discover and make a difference.
Community partners
If you are a charity, community interest company, social enterprise or organisation with a clear social mission, and are looking for volunteers to enhance the impact of your work, join King's Volunteering and share your opportunities on the new platform.
Visit Community Organisations at King's Volunteering.
Share your volunteering story
If you have a volunteering story to share, or a question about volunteering, contact the King's Volunteering team at volunteer@kcl.ac.uk.
Let us know how you are making a difference by tagging @ServiceAtKings on Twitter and Instagram, and by using the hashtags #ServiceAtKings #KingsVolunteering #WeAreKings