02 May 2019
King's competes in the 2019 Jessup International Moot 
King's ranks 5th, continuing its strong track record in the Jessup International Moot.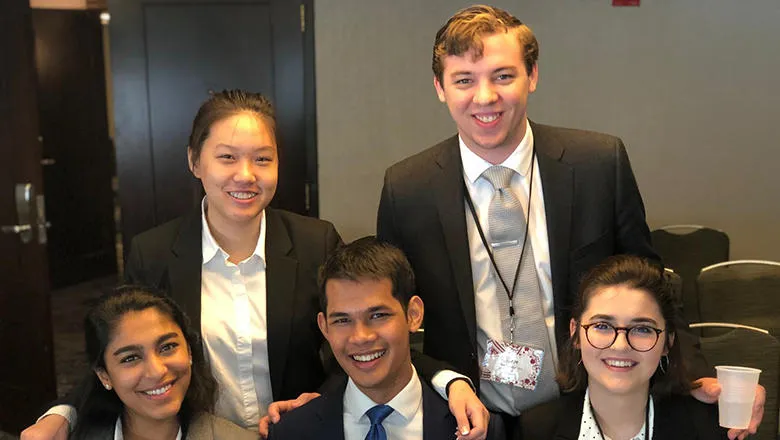 The King's team at the 2019 Jessup International Moot.
This year marked the 60th anniversary of the Jessup, the largest mooting competition in the world. More than 700 law schools from over 100 countries and jurisdictions participated in the International Rounds – held in Washington, D.C., between 31 March and 6 April.
The Jessup involves a simulated dispute between fictional states before the International Court of Justice. In February 2019, the King's team won the UK National Championship.
This year's successful team consisted of Tara Chand Lall (LLB, second year), Shavonne Teo (LLB, second year), Liam F. Holohan (LLB, second year), Irene Whelan Vita (LLB, final year) and Joel Sherard Chow (Year-Abroad student). The team researched and argued contentious and topical issues in public international law – including, for example, environmental obligations relating to migratory species.
The team was coached by King's alumnus Caleb Kirton (LLB, 2017). This is the first time in many years that the King's team has had a sole volunteer coach and the Law School is grateful to Caleb for the huge amount of time and effort he put into the coaching. 
At the International Rounds, King's faced teams from the Université de Luxembourg (Luxembourg), Auckland University (New Zealand), Makerere University (Uganda) and Lahore University of Management Sciences (Pakistan) in the preliminary rounds. King's won all four rounds, ranking third – its highest-ever ranking after the preliminary rounds. The team advanced to the knock-out rounds, winning matches against China University of Political Science and Law (China) and Belarusian State University (Belarus). In the Quarter-Final Round, the team faced a team from the National University of Singapore (Singapore) and, ultimately, lost the round. Overall, the King's team ranked 5th in the world, out of 700 competing teams.
Two King's oralists received individual prizes for their performance at the International Rounds. Irene Whelan Vita and Joel Sherard Chow ranked as the 24th and 5th best oralists in the Competition, respectively.
King's has an outstanding and consistent record in the Jessup. In 2007, King's reached the World Championship Round, raking 2nd in the world. In 2014, 2016 and 2018, King's reached the Semi-Final Round and ranked 4th in the world. Between 2016 and 2019, King's has consecutively won the UK National Championship and reached (at least) the Quarter-Final Round at the International Rounds.
The team and coach are indebted to the support they have received in their preparation for the Competition. In particular, the team wishes to express its thanks to Lucas Bastin (Essex Court Chambers), Andrew Carruth (Quadrant Chambers), Peta-Louise Bagott (Carmelite Chambers), Billy Reed and, especially, Dr Philippa Webb.